Entertainment News: melissa mccarthy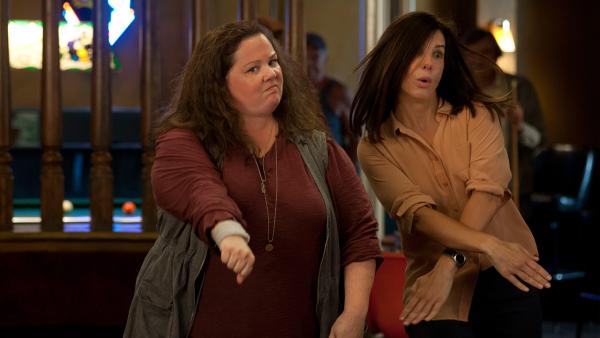 04/19/2013
See photos from the 2013 film "The Heat," which stars Sandra Bullock as an FBI agent and Melissa McCarthy as a Boston cop.
Thomas F. Wilson, aka Biff from "Back To The Future," also stars.
More melissa mccarthy
09/29/2013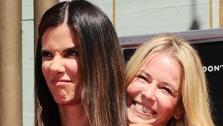 Sandra Bullock has dazzled audiences for years as one of Hollywood's most lovable actresses, appearing in films such as 'The Proposal,' 'The Blind Side' and 'Miss Congeniality.' Check out 19 of the star's cutest looks over the years.
04/07/2013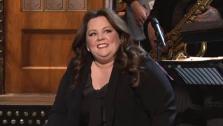 Melissa McCarthy brought the funny as host -- for the second time -- on the April 6 episode of "Saturday Night Live."
The show's opening monologue showcased the 42-year-old starlet wobbling her way on stage in some very high heels. After grasping a chair to help keep her balance, and admitting that she hadn't practiced walking in the platfor shoes, the "Identity Thief" starlet came tumbling down as a part of the funny opening sketch.
02/19/2013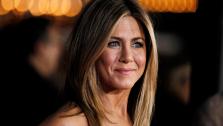 Oscar winners Michael Douglas and Jamie Foxx as well as Jennifer Aniston and Paul Rudd have been added to the list of presenters for the Oscar telecast on February 24, show producers Craig Zadan and Neil Meron announced on Tuesday, February 19.
Douglas earned an Oscar for his performance as Gordon Gekko in "Wall Street" and as producer of the 1975 Best Picture winner "One Flew Over the Cuckoo's Nest."
02/18/2013
Oscar nominees Salma Hayek Pinault, Melissa McCarthy, Liam Neeson and John Travolta have been added to the list of presenters for the Oscar telecast on February 24, show producers Craig Zadan and Neil Meron announced on Monday, February 18.
Hayek Pinault earned her Oscar nomination for her leading performance in the 2002 movie "Frida." She will be seen next in "Grown Ups 2."
02/27/2012
Melissa McCarthy turned heads when she graced the red carpet of the 84th Academy Awards on February 26 in a blush colored Marina Rinaldi gown.
The gown featured a jeweled neckline and her look was finished off with a pair of shoes from designer Brian Atwood, who is a close friend of the actress.
02/24/2012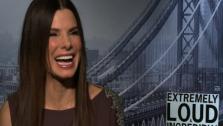 Sandra Bullock, Gwyneth Paltrow, Morgan Freeman and Owen Wilson are the latest celebrities named as presenters for the 2012 Academy Awards. The ceremony is set to feature more than 30 of them and will air on Sunday, February 26 on ABC.
Check out a list of the presenters listed alphabetically by first name below.
11/28/2011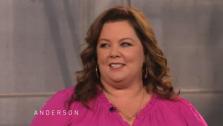 Melissa McCarthy says she is still trying to lose weight, a task she calls a "work in progress," but adds that she currently has other things to worry about.
The 41-year-old has been gaining popularity in the past year. She won her first Emmy for her role in the CBS sitcom "Mike & Molly," which premiered last year and depicts an overweight couple who met at an Overeaters' Anonymous meeting, and gained praise for her supporting part in the 2011 female comedy movie "Bridesmaids" and her hosting stint on "Saturday Night Live."
10/02/2011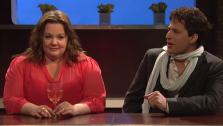 Melissa McCarthy made her "Saturday Night Live" hosting debut on Saturday, October 1.
The "Mike & Molly" star teamed up with her "Bridesmaids" co-star and "Saturday Night Live" cast member Kristen Wiig during a few sketches, including her opening monologue. During the monologue, McCarthy and Wiig sang and danced.
Sign up Stay Informed
Entertainment News