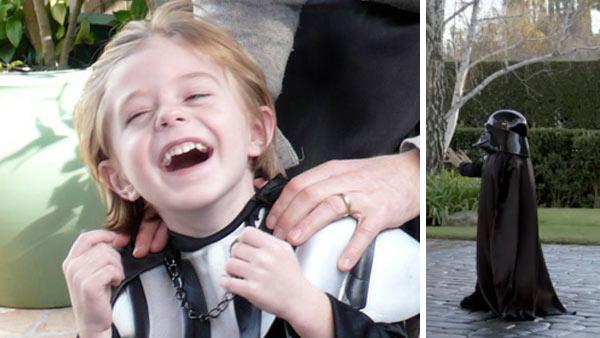 Max Page, 7-year-old 'mini Darth Vader,' 'smiling and talking' after heart surgery
06/15/2012 by Nichole Hamilton
Max Page, the 7-year-old boy who played a miniature Darth Vader in a Volkswagen commercial that aired during Super Bowl XLV in 2011, is in stable condition and is "already smiling and talking" after his recent open heart surgery, hospital officials say.
Page's procedure took place on Thursday at the Children's Hospital in Los Angeles and was aimed at repairing a hole in his heart and replacing its pulmonary valve. Doctors say they hope his new one will last up to 15 years. This is Page's eighth surgery in seven years and his first-open heart procedure, his parents told NBC's "Today" show earlier this week.
"He's doing fine; He's in good condition," David Epstein, the attending physician in the Cardiothoracic Intensive Care Unit at the Children's Hospital in Los Angeles said in a statement posted on thehospital's blog on Friday, June 15. "He's smiling and talking."
A hospital official said the young boy is expected to be moved out of ICU sometime on Saturday and is "stable and improving."
His mother also shared some details on his recovery on Friday.
"Max had a pretty peaceful night," Max's mother Jennifer Page said on the hospital's website. "This morning he gave us the thumbs up and he said 'hi' to his brother, Els, and told him he loved him."
At the Children's Hospital in Los Angeles, the young star serves as an ambassador to support other children who suffer from heart ailments.
Ad agency Deutsch LA, which produced the Volkswagen ad starring Page, is collecting donations for the boy at www.chla.org/max as well as video messages of support and toys for him and his brother, Els. More than $9,404 has been raised so far.
His mother Jennifer said in a previous email, posted by Deutsch LA, that he was told about his upcoming procedure on Sunday, June 10.
"Initially, Max was crying and repeating how scared how he was," she wrote. "We unpeeled the layers by asking what exactly he was afraid of and tackled each issue as he could verbalize it. Blood draws, spending the night in the hospital and hurting are the big three. He was also very sad that summer would be in rest in recovery instead of playing baseball, golf and traveling."
In addition to his Darth Vader role, Page also starred in the soap opera "The Young and the Restless," in which he played Reed Hellstrom between 2009 and 2011. He also plays Owen Webb on the NBC show "Prime Suspect," which debuted last year and was canceled after one season. Page has also appeared in commercials for Trident gum and DirecTV satellite services.
Check out the popular Super Bowl ad below, as well as his interview with NBC's "Today" show.
(Copyright ©2013 OnTheRedCarpet.com. All Rights Reserved.)