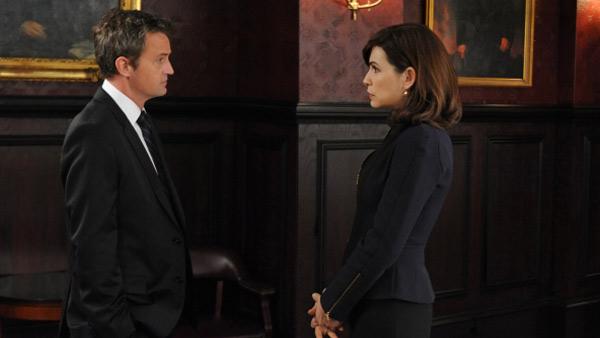 Matthew Perry guest stars on 'The Good Wife'
03/25/2012 by Olivia Allin
Matthew Perry will make his debut on "The Good Wife" on Sunday, for a multi-episode story arc.
The former "Friends" star will join the CBS drama "The Good Wife," as Mike Kresteva, an "an extremely charming Chicago attorney" and the chairman of a blue ribbon panel investigating a suspicious police shooting. His first episode airs on March 25.
The show's main character Alicia Florrick (played by Julianna Margulies) is also assigned to the panel and she questions the new attorney's actions as chairman.
"It's my favorite show, I love this show," Perry said of "The Good Wife" in a preview interview (watch below). Of his role, the actor said, "My character's quite a bad guy, which is really fun to play. I've never played a guy this, sort of, mean before. Playing a sociopath is kind of easy because you just pretend you're telling the truth when you're lying."
Before his stint on "Mr. Sunshine," Perry appeared on "Studio 60 on the Sunset Strip" in 2006. The series, written by Aaron Sorkin, lasted only one season. Perry played Chandler Bing on "Friends" for 10 seasons from 1994 to 2004. He has also appeared in movies such as "The Whole Nine Yards" in 2000 and its 2004 sequel and in "17 Again" alongside Zac Efron in 2009.
Julianna Margulies won the 2011 Emmy Award for Outstanding Lead Actress In A Drama Series for her role as Alicia Florrick in "The Good Wife" in September.
In "The Good Wife," Margulies stars as Alicia, the wife of a disgraced state attorney, played by "Sex and the City" actor Chris Noth, who renews her career as a junior litigator. The series premiered in 2009 and began its third season on September 25, 2011.
Matthew Perry's first episode on "The Good Wife" will air on Sunday, March 25 at 8 p.m. ET on CBS. Watch a clip and interviews below.
(Copyright ©2013 OnTheRedCarpet.com. All Rights Reserved.)
Sign up Stay Informed
Entertainment News