Entertainment News: mark consuelos
05/03/2012
Actors have worked plenty of odd jobs on the path to fame and Kelly Ripa isn't afraid to open up about her husband's unique path.
In an interview with George Wayne, set to appear in the June issue of Vanity Fair magazine, the "Live! With Kelly" morning talk show host confirmed that her husband Mark Consuelos, 41, was once a stripper.
More mark consuelos
03/14/2012
Kelly Ripa and her husband, Mark Consuelos, have teamed up to produce a documentary series about cheerleading called "CHEER" for CMT, the network announced on March 14.
According to a statement from the network, the show will be a one-hour, six-episode series and the couple will serve as executive producers on the show through their company Milojo Productions. "CHEER" will document a hard-driving coach named Patty Ann Romero and her cheerleading team on their journey to world cheerleading championships.
09/22/2011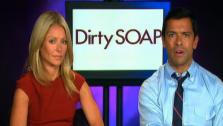 Kelly Ripa and Mark Consuelos have a special connection to "All My Children" and recently opened up to OnTheRedCarpet.com about how they feel about the end of the series.
Ripa played Hayley Vaughan on "All My Children" between 1990 and 2001. Ripa began acting on "All My Children" when she was 19 as Hayley Vaughan. On the set she met Mark Consuelos, who played her on-screen love interest Mateo, in 1995. The two married in 1996 and are parents to sons Michael, 13, and Joaquin, 8 and daughter Lola, 9.
09/22/2011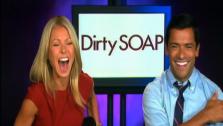 The two dish about upcoming reality series 'Dirty Soap.' The former soap stars are the executive producers.
09/22/2011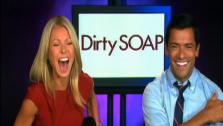 The former soap stars and long-time married couple open up about what it is like to work together.
09/22/2011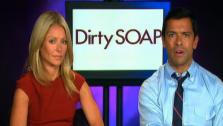 Kelly Ripa and Mark Consuelos talk about the end of 'All My Children,' which airs its series finale on Sep. 23.
Sign up Stay Informed
Entertainment News