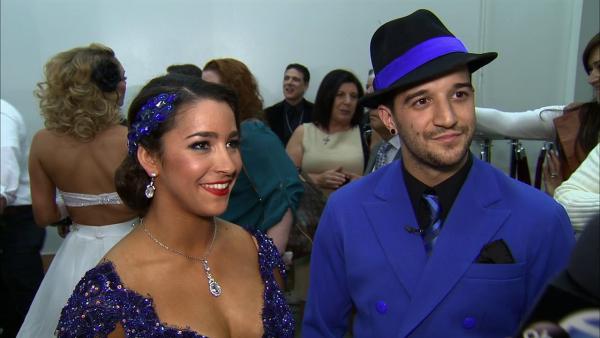 Mark Ballas of 'Dancing With The Stars' talks injury, recovery
04/28/2013 by Nichole Hamilton
Mark Ballas of "Dancing with the Stars" may have to miss a very important performance. The ballroom dancing professional, 29, took to his official blog to confirm that he sustained a back injury while rehearsing during the week. According to his post, he may have to sit on the sidelines during a crucial routine. "While trying a lift, I compressed two discs in my lower back and could hardly move for two days," he said in a blog post for
USA Today
on Saturday, April 27. "The timing couldn't be worse, being that we have to know four dances this week even though we will only be performing two." "I am writing this blog in rehearsal, on Saturday, right now, as I have been sidelined for most of the week," he continued. "Luckily Henry Byalikov has stepped in, and may possibly dance for me on Monday if I can't compete." The performer is currently partnered with Olympic gymnast Aly Raisman on the show's 16th season. Byalikov is a member of the show's dance troupe, who is expected to perform with the gold medalist for the Monday, April 28 episode. "Thx for the get better tweets.. I appreciate y'all, hope I can get out the Tomo... :/ @henrybyalikov has been a savior... #dwts," he
Tweeted
on April 28. While the performer and musician is still recovering from his injury, he hasn't lost ALL hope, posting: "I'm really hoping to be out there shaking it with Aly on Monday night so send me your good vibes y'all." (
Check out PHOTOS from the 16th season of the dancing series.
) The pair earned 27 out of 30 points for their flirty Foxtrot on Monday night's episode of the dancing series. The show is down to seven contestants out of the original 12, and as of Tuesday, April 23, the pair were in second place for the competition (
Read a recap
). "Our solo dance is salsa this week," he continued, talking about their expected performance on Monday, April 29. "We have a great song and theme so I'm super bummed to be hurt. It's Latin night Monday, so everyone will be taking on sexy Latin dances and it promises to be a fun and entertaining night."
(Pictured above: "Dancing With The Stars" contestant Aly Raisman speaks with her partner Mark Ballas after season 16's second week of performances on March 25, 2013.)
(Copyright ©2014 OnTheRedCarpet.com. All Rights Reserved.)
Sign up Stay Informed
Entertainment News