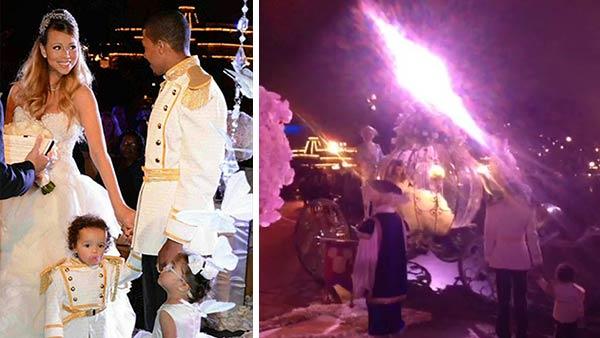 Mariah Carey, Nick Cannon renew wedding vows at Disneyland, with twins
05/01/2013 by Corinne Heller
Mariah Carey was a Disney princess on Tuesday night when she and Nick Cannon, accompanied by twins Moroccan and Monroe, renewed their wedding vows in Disneyland in Anaheim, California. The fairy tale ceremony was held to celebrate the fifth anniversary of Carey, 43, and Cannon, 32, and also took place on their children's second birthday. The couple held a separate party for the kids at the park before they renewed their vows. Carey, wearing a strapless bridal ball gown with a ruffled skirt and a sparkly, rhinestone headpiece and double-layered necklace, made a grand entrance to the wedding vow renewal ceremy by arriving with daughter Monroe in a horse-drawn carriage, officially called Cinderella's Crystal Coach. The Grammy-winning singer and "American Idol" judge was greeted upon arrival at Disneyland's Main Street by her family. Cannon, host of "America's Got Talent," and son Moroccan wore white formal jackets and dark pants, while Monroe wore a flower girl-like ball gown, two white ribbons in her hair and her glasses. According to
ETOnline
, about 250 people attended the ceremony, which was held in front of Sleeping Beauty Castle and was decorated with 15,000 flowers imported from South Africa, Holland and France, and 10,000 crystals. The Royal Footman from Cinderella, Major Domo, served as Master of Ceremonies, while Cannon later DJ'd the reception. The singer posted
several photos
from Tuesday's festivities on her Twitter page. She also shared Vine videos. (Watch them below.) Guests of Carey's wedding vow renewal ceremony were allowed to ride rides and access attractions in the Fantasyland section of the park, ETOnline said.
Disney often hosts private events, including weddings
at its theme parks, hotels and cruise ships for members of the public, who can request for sections of the parks and rides to be are made available for guests, a Disneyland rep told OTRC.com. Wedding packages range in price from $5,000 to $65,000. "On our way to renew our vows. I love you @NickCannon shut down Disneyland KKLB," Carey
Tweeted
. The ceremony took place after-hours and was not free, the Disneyland rep told OTRC.com. Carey posted her Twitter photos and videos of herself preparing for and arriving at the Disneyland ceremony after 10 p.m., almost two hours after the park closes to visitors. She and Cannon have hosted events for the Walt Disney company in the past -- she
christened the new Disney Cruise ship Fantasy in March 2012 (watch video
and he played the part of Santa at
Disneyland's 2011 Christmas parade see photos)
. Carey and Cannon have renewed their wedding vows every year since they married in the Bahamas on April 30, 2008.
(NOTE: OTRC.com and parent company KABC Television are owned by The Walt Disney Company.
)
(Copyright ©2014 OnTheRedCarpet.com. All Rights Reserved.)
Sign up Stay Informed
Entertainment News