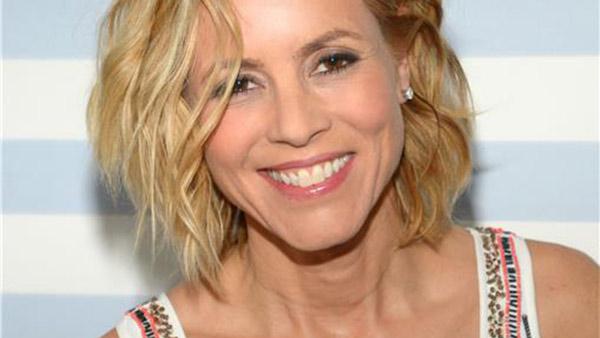 Maria Bello comes out, reveals relationship with woman
12/02/2013 by Corinne Heller
Maria Bello of "Coyote Ugly," "Grown Ups" and "Prisoners" fame has revealed publicly that she is involved in a romantic relationship with a woman and that she also battled a life-threatening illness earlier this year.
In a heartwarming New York Times column titled "Coming Out as a Modern Family," the 46-year-old Pennsylvania-born actress details how she told her 12-year-old son, Jackson, about the issue after he asked if she was "romantic with anyone right now." His father is her ex-boyfriend, TV producer Dan McDermott.
"I took a deep breath, knowing that my answer, and his response, would have an impact on our lives for a very long time," she wrote in the column, which was published on Friday. "He was right; I was with someone romantically and I hadn't told him. I had become involved with a woman who was my best friend, and, as it happens, a person who is like a godmother to my son."
"He looked at me for what seemed like an eternity and then broke into a huge, warm smile," she said, quoting her son as telling her: "Mom, love is love, whatever you are."
Bello described her "Italian-Polish, 'traditional' Philadelphia" family's reaction to the news -- she said her father called her girlfriend, Clare, "a good girl" who was good for her and that her mother and other family members agreed. Bello says her therapist told her to tell her son about the relationship when he asked her about it. The actress pondered how the issue would affect Jackson as well as her career.
"But Jack, I'm a little scared," she said she told her son. "When I was younger, people judged you if you were in a romantic relationship with a person of the same sex, and some still do. So I'm not sure how to deal with this. But we'll figure it out together."
Bello also wrote that this past summer, she was "very ill," adding: "At one point it looked as if I might not survive." She did not reveal her ailment. She said her mother, Jackson, his father, her brother and Clare were at her bedside.
Bello says she, her partner, her son and his father spend time together and that Jackson got them "hooked" on the ABC sitcom "Modern Family," which features a homosexual couple who have an adopted daughter.
"And in each episode he tries to figure out if Dan is Phil or Jay and if Clare is Gloria or Mitchell. (He has no doubt about which character I am: Claire.)" she said.
(Copyright ©2014 OnTheRedCarpet.com. All Rights Reserved.)
Sign up Stay Informed
Entertainment News