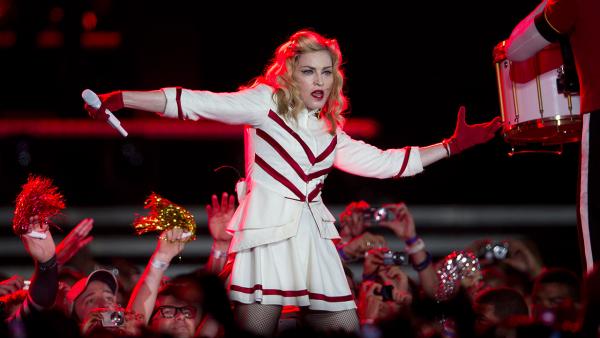 Madonna curses out smokers, threatens to cancel Chile concert (Video)
12/21/2012 by Corinne Heller
Madonna got fired up and unleashed an expletive-filled rant during a recent sound check performance held before her outdoor concert in Santiago, Chile because several people in the crowd were smoking cigarettes. Dressed in a hooded black rain jacket, the 54-year-old singer and longtime health and fitness advocate walked across a tarp-covered stage at the National Stadium on Wednesday while singing her song "Human Nature." She and many audience members held umbrellas and hers blew out immediately after she opened it, prompting several people to laugh. She then stopped singing. "There's people smoking right now," she said, angrily. "No smoking. Where are they smoking? If you're going to smoke cigarettes, I'm not doing a show. You don't care about me? I don't care about you. Alright, are we going to play that game? I'm not kidding. I can't sing if you smoke. Entiendes?" "You know what -- if you love me then don't smoke," she said. "No smoking. You're looking right at me and you're smoking cigarettes like I'm a stupid [expletive] idiot." The singer eventually continued the sound check performance and the actual concert was held hours later, although it began more than two hours late and ended 40 minutes early. Organizers said that the delay and shortened performance was prompted by the rainy weather as well as production problems. Madonna has in the past posed for professional photos while
holding a cigarette
and famously puffed on a cigar during an interview on CBS' "Late Show with David Letterman" in 1994. She also appears with a lit cigarette in her
2012 music video "Girl Gone Wild"
. But the singer does not smoke in real life. After Madonna's teenage daughter Lola was photographed in public with a cigarette earlier this year, the singer said on NBC's "Rock Center" in April she
"wasn't very happy about it"
and that she thinks she may need to be "tougher" on her. "It's hard though - every day is a negotiation," she said. "But cigarette smoking I'm not very fond of - for anyone. I don't approve of anyone smoking cigarettes - most of all, my daughter." "MDNA" TOUR CONTROVERSIES Madonna's concert in Chile was one of the stops on her "MDNA" tour, which was named the highest-grossing tour of 2012, according to
Billboard
. Her world concert series has grossed more than $228.4 million in ticket sales since it began in Israel on May 31. Madonna is no stranger to controversy and has made headlines over several incidents that occurred during her "MDNA" tour. At her October 27 concert in New Orleans, she was booed by scores of audience members and spurred several to leave after she
told the crowd to vote for President Barack Obama
in the November election. She angered France's far-right National Front party by
showing at a concert in Paris in July an image of French political leader Marine Le Pen with a swastika superimposed on her forehead
. In August, she was
sued by Russian activists
for expressing her support for gay rights during a concert in St. Petersburg. In October, several fans at her concert in Denver, Colorado complained she used a fake gun to shoot a masked gunman during the show, which took place months after a gunman shot and killed several people during a midnight screening of "The Dark Knight Rises" in a movie theater in the state. Check out fan-made videos of Madonna scolding fans for smoking at her sound check in Chile (warning: Contains explicit language) as well as her "Girl Gone Wild" clip.
(Pictured above: Madonna performs during her MDNA World Tour in Rio de Janeiro, Brazil, Sunday, Dec. 2, 2012. Credit: AP Photo / Silvia Izquierdo)
(Copyright ©2014 OnTheRedCarpet.com. All Rights Reserved.)
Sign up Stay Informed
Entertainment News