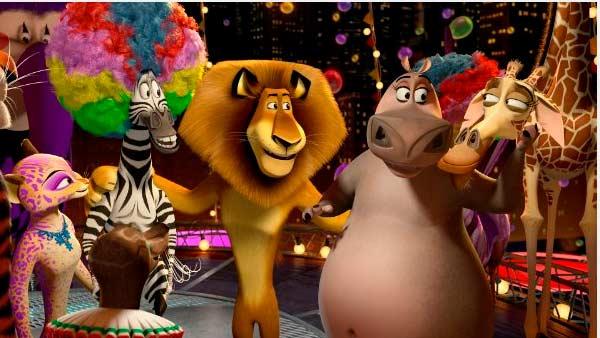 'Madagascar 3' edges out 'Prometheus' for box office crown with $60.4 million
06/10/2012 by Kristina Lopez
Hollywood had a strong weekend at the box office with films like "Madagascar 3: Europe's Most Wanted" and "Prometheus" making big debuts.
It was the CGI family film "Madagascar 3" that took home the box office crown for the weekend, earning the top spot with an estimated $60.4 million domestically, according to The Associated Press. Final box office numbers are released on Monday.
The DreamWorks Animation film, which features the voices of Ben Stiller, Chris Rock, Jada Pinkett Smith and David Schwimmer as zoo animals, out earned the $47.2 million debut of the 2005 original and was just a few million dollars shy of the $63.1 million opening of the second franchise film.
In the most recent movie, the zoo animals continue their journey by joining a circus. The film also earned $75.5 million internationally for a worldwide box office total of $135.9 million.
In second place is the sci-fi action film "Prometheus," with $50 million. The film, which stars Charlize Theron, Michael Fassbender and Noomi Rapace, tells the story of a team of explorers who discover a clue to the origins of mankind on Earth, which leads them to a journey to the darkest corners of the universe and a battle to save the future of mankind.
"Prometheus," which was initially set to be a prequel to the 1979 film "Alien," takes place in the same fictional universe of the film and is an offshoot of director Ridley Scott's original movie.
Overseas, the film added $39.2 million for the weekend to bring its international total to $91.5 million and its worldwide take to $141.5 million.
In third place is the previous weekend's box office winner "Snow White and the Huntsman," which also stars Theron. The film also features Kristen Stewart as Snow White and Chris Hemsworth as the Huntsman.
"Snow White and the Huntsman" earned $23 million domestically over the weekend, raising its total to $98.5 million.
"Men in Black 3" finished fourth with $13.5 million, which puts its domestic total at $135.5 million.
Meanwhile "The Avengers" finally appears to be losing some steam after six weeks in theaters, falling to fifth place. The movie earned an additional $10.8 million over the weekend, lifting its domestic total to $571.9 million. The movie also earned $7.8 million overseas, raising its international haul to $824.4 million and its worldwide revenue to just under $1.4 billion.
(Copyright ©2013 OnTheRedCarpet.com. All Rights Reserved.)