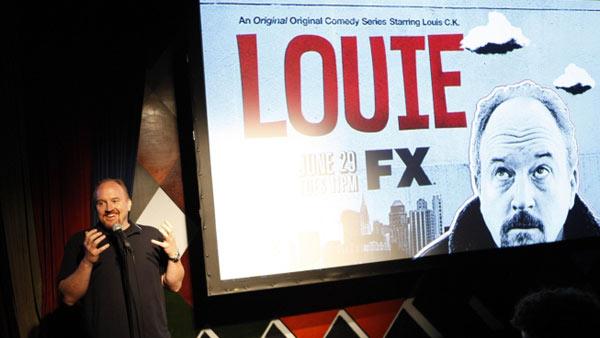 Louis C.K. sells $4.5 million in comedy show tickets in 45 hours
06/28/2012 by Corinne Heller
Louis C.K. says at least 100,000 tickets for his upcoming standup comedy tour have been sold for more than $4.5 million, less than 48 hours after he announced that he would offer them through his website without the help of vendors as part of a bid to made his shows more affordable.
The 44-year-old Emmy-nominated comedian had carried out a similar promotion for a DVD special called "Live At The Beacon" late last year. He made more than $1 million in less than two weeks.
Louis C.K., whose real name is Louis Szekely, had announced his tour on Monday, just before the season 3 premiere of his FX comedy series "Louie," which airs on Thursday. He plans to perform in various cities in the United States from October to February 2013, starting in Cleveland (see tour dates). Each ticket costs $45.
"Well. After 45 hours, my tour has sold 100K tickets, box office gross of 4.5 mil $ (not all mine)," he Tweeted on Wednesday. "I guess it was a good idea."
He had said on his website, LouisCK.net, that he was "trying something new, building on the fun, success and fan-benefit" of selling his content online on his own page.
"I only wanted to do this if there was a way, like with 'LIVE AT THE BEACON,' that it could bring the price of tickets down and make them easier and less complicated to buy," he said." "Making my shows affordable has always been my goal but two things have always worked against that - high ticket charges and ticket re-sellers marking up the prices."
"Some ticketing services charge more than 40 percent over the ticket price and, ironically, the lower I've made my ticket prices, the more scalpers have bought them up, so the more fans have paid for a lot of my tickets," he added.
Louis C.K. said that by selling tickets on his own website, he would make less than he would earn if he used "the usual very excellent but expensive ticketing service." Many popular vendors typically charge fees and added taxes.
"In some cities I've had to play smaller venues and do more shows," he added. "But I like doing more shows and about a year ago I reached a place where I realized I am making enough money doing comedy so the next thing that interested me is bringing your price down. Either way, I still make a whole lot more than my grandfather who taught math and raised chickens in Michigan."
The comedian's "Live At The Beacon" special was first offered in December 2011, on his website, for $5 - about a third of what popular retailers would charge. He called the sale an "experiment" to see if people would pay to watch the special, rather than download it illegally. In 12 days, it raked in more than $1 million.
He said on his website he would give $280,000 to several charities, $250,000 to his staff and use $250,000 to cover the video's productions costs.
"That leaves me with 220k for myself," he said. "Some of that will pay my rent and will care for my children. The rest I will do terrible, horrible things with and none of that is any of your business. In any case, to me, 220k is enough out of a million."
(Copyright ©2013 OnTheRedCarpet.com. All Rights Reserved.)
Sign up Stay Informed
Entertainment News