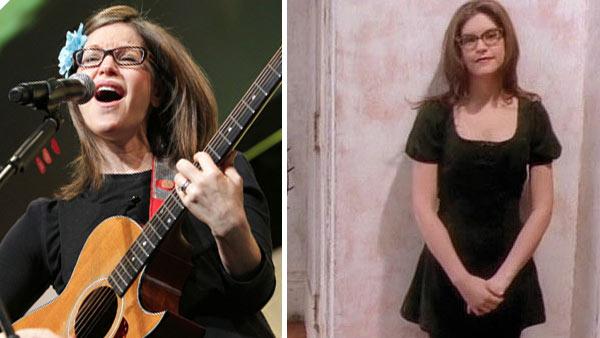 Lisa Loeb, Roey Hershkovitz welcome baby boy, Emet Kuli
06/19/2012 by Corinne Heller
Lisa Loeb, known for the 1994 ballad "Stay (I Missed You)" and her signature cat-eyed glasses, has welcomed her second child, a boy, with husband Roey Hershkovitz.
The 44-year-old singer gave birth to her son, son Emet Kuli Loeb Herskovitz, on Friday, June 15, according to a message posted on her Twitter page on Tuesday. She and Herskovitz, a 33-year-old music production supervisor who has worked on Conan O'Brien's present and past talk shows, are parents to daughter Lyla Rose, 2. The couple married in 2009.
Loeb's song "Stay (I Missed You)" was her debut single and hit No. 1 on the Billboard Hot 100 singles chart. It was featured on the soundtrack of the 1994 cult romantic drama film "Reality Bites."
The movie was directed by Ben Stiller, who also appears in the film alongside Winona Ryder and Ethan Hawk. The latter actor directed the music video for Loeb's song. His cat is featured in the clip.
Loeb did not appear in "Reality Bites" but has had small parts in movies such as "House on Haunted Hill" and the 2011 film "Fright Night" as well as in television shows such as "The Nanny," "Cupid" and the 2003 animated series "Spider-Man," in which she played Mary Jane Watson.
The singer has released eight studio albums and other singles, such as "Do You Sleep" and "I Do," but they were not as successful as "Stay (I Missed You)."
She is also the author of the songbook "Lisa Loeb's Silly Sing-Along: The Disappointing Pancake and Other Zany Songs" and has her own eyewear collection, which is inspired by her own look.
(Pictured: Lisa Loeb performs songs from "The Disappointing Pancake and Other Zany Songs" at the American Library Association's Midwinter 2012 event in January. / Lisa Loeb appears in a scene from the 1994 music video "Stay (I Missed You).")
(Copyright ©2013 OnTheRedCarpet.com. All Rights Reserved.)
Sign up Stay Informed
Entertainment News