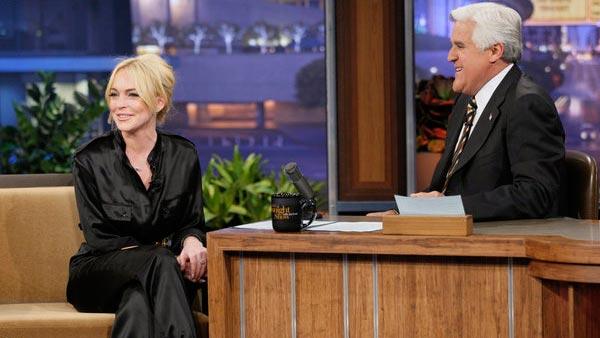 Lindsay Lohan to Jay Leno: 'I've made a lot of poor decisions'
04/26/2011 by OnTheRedCarpet.com Staff
Actress Lindsay Lohan made her first TV appearance on "The Tonight Show with Jay Leno" since spending five hours in jail last week for violating her probation.
The 24-year-old taped her appearance on Monday, which aired on Tuesday, and was greeted with a standing ovation by the audience, according to the Associated Press. During the interview, Lohan admitted, "I've made a lot of poor decisions in the past and I'm dealing with the consequences of those decisions."
She added, "But I'm a fighter and I know that I have to work to gain the respect back. I'm willing to do the work I have to do to follow through with being an actress."
The "Mean Girls" star appeared at a hearing on April 22 regarding a $2,500 necklace that was reported missing from a jewelry store. She pleaded not guilty to a reduced charge of misdemeanor theft.
After reviewing evidence and hearing from witnesses, a judge determined that the actress had not obeyed the law and had therefore violated her probation stemming from a 2007 drunk driving and cocaine possession case.
The judge ordered Lohan to serve 120 days in jail and perform 480 hours of community service - including 120 hours, or 15 days, at a morgue.
"Lindsay will have to perform janitorial work - she will be required to clean toilets, vacuum, throw away trash and work in the maintenance department," Los Angeles County Coroner's Assistant Chief Ed Winter told OnTheRedCarpet.com. "She won't touch dead bodies, but she will be around them."
The judge picked the Downtown Women's Center because she wanted the actress to see how needy women live. She chose the morgue as an additional venue because she wanted Lohan to see the consequences of drunk driving.
On Friday, after her sentencing, Lohan spent several hours inside a Los Angeles jail before she was bailed out. The actress' attorney has since filed an appeal on the judge's probation violation ruling. Both that case as well as the one regarding the reduced necklace theft charge are currently under review.
According to ABC News, Lohan said that when she was in court on Friday she "didn't really expect the outcome to be what it was. But I'm a big girl and I'm going to do what I'm told to do, and that's what I have to do to continue on with working in my life. I'm taking responsibility."
She said her recent stint in jail was "an interesting experience" and added, "It was definitely a wake-up call."
"Being young and being in the position that I was in, you don't really take the time to appreciate what you have, and it's all kind of a whirlwind and people make decisions for you," she said about her past. "But I'm not a kid anymore, I'm 24, I've made a lot of mistakes and I recognize that.
She added, "I'm in the clear now, and as long as I stay focused, I will achieve what I want to achieve."
Leno asked about her family and while Lindsay said her mother was "amazing" she chose to "plead the fifth" on questions about her father.
Meanwhile, the actress is trying to advance her film career. On April 21, it was announced that she has been cast as Kim Gotti in the new film "Gotti: Three Generations," which stars John Travolta as mob boss John Gotti, Sr., her character's father-in-law.
Lohan revealed that she actually met John Gotti when she was three-years-old, according to E! News. "That could be why you're in so much trouble now," Leno joked after learning the information.
The comedian wrapped up the interview by asking Lohan where she'll think she'll be when she's 30. "Hopefully sitting her after I've won an Oscar," she answered. "That would be ideal."
Check out a clip for Lindsay Lohan's interview on "The Tonight Show with Jay Leno" below.
(Copyright ©2013 OnTheRedCarpet.com. All Rights Reserved.)
Sign up Stay Informed
Entertainment News