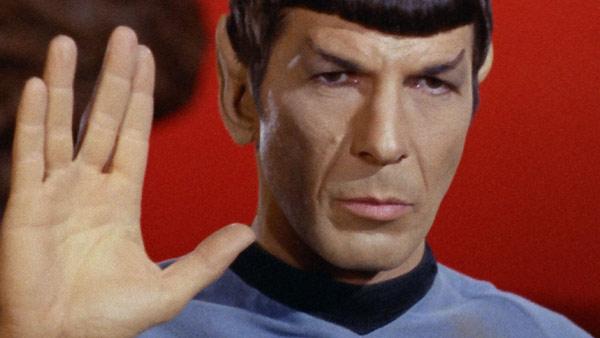 Leonard Nimoy turns 80, plans party with 'gypsies and vagabonds'
03/26/2011 by Olivia Allin
Leonard Nimoy, who portrayed Spock in the original "Star Trek" series, turned 80 on Saturday and received birthday wishes from NASA and former co-star George Takei on Twitter.
Nimoy, whose career has spanned for 50-years, recently guest-starred on "Fringe" and regularly appears at conventions and events. Nimoy will be celebrating his big day with a birthday party full of "gypsies and vagabonds," according to a recent Tweet.
"I told my Dad I'm going to be an actor," Nimoy wrote on Twitter. "He said I'd be palling with gypsies and vagabonds. They'll all be at my party this weekend."
Nimoy's father owned a barbershop in Boston and one of the most popular haircuts offered was the "Spock cut," in honor of his son's iconic role.
Nimoy has revisited his "Star Trek" character in several movies, including the most recent 2009 re-make. The actor has also written, directed and produced several projects. The actor also recorded an album "Spaced Out" with his "Star Trek" co-star and friend William Shatner. In a recent interview, Nimoy talked to the "Star Trek" fan site about why he keeps doing appearances, when most actors would have retired and he said it was a "thank you" to his fans.
"That's exactly what it is, a thank you," Nimoy told TrekToday.com of his public appearances. "I still feel an obligation to be out there for them, to tell them the 'Star Trek' stories and to bring them up to date on what I'm doing. There's still a lot of interest. I don't know when I will stop doing this. I think there is an end in sight. I will not going on doing it indefinitely, but I am scheduled for three or four events for this year."
Nimoy received a 'Happy Birthday' greeting from NASA on Twitter on Saturday morning.
"Earlier this week it was @WilliamShatner's birthday," NASA wrote. "Let's give the bridge equal billing and wish happy birthday to @TheRealNimoy LLAP!"
Earlier in the month, Shatner recorded a wake-up call for crew members of the space shuttle Discover as the astronauts returned to Earth.
On Monday, March 7, the crew undocked from the International Space Station for the last time and the theme song of the original 1960s "Star Trek" series was played for them. However, instead of the regular monologue that is heard at the end of it, a recorded message of Shatner spoofing the famous words of his character, Captain James T. Kirk, was played instead.
(Copyright ©2013 OnTheRedCarpet.com. All Rights Reserved.)
Sign up Stay Informed
Entertainment News