Entertainment News: lena dunham
04/24/2013
Christina Aguilera appeared at the TIME 100 Gala on Tuesday, April 23, 2013, in a cut-out, black, Victoria Beckham dress.
She was joined on the red carpet by Lena Dunham, Olivia Munn, Claire Danes, Jessica Biel, Justin Timberlake, Mia Farrow, Barbara Walters, Marissa Mayer, Ricky Gervais, Bryan Cranston, Jimmy Kimmel, Jimmy Fallon, Roma Downey and more. Check out photos.
More lena dunham
02/07/2013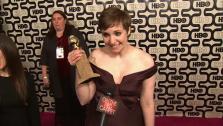 Lena Dunham, the Golden Globe-winning creator, writer and star of the raunchy HBO drama series "Girls," took to Twitter on Thursday, February 7, to deny reports that she did not vote in the November 2012 election.
Public records show that the 26-year-old is registered to vote in Brooklyn, where she bought a condo last year. The New York political blog Room Eight reported on Wednesday that New York City's voter file shows that the actress did not vote in the 2012 general election or in any local elections since she moved from her prior home in the Tribeca area.
02/01/2013
After creating her own comedy series, netting a multi-million dollar book deal and earning two Golden Globe awards, Lena Dunham is gearing up for a new television project.
The 26-year-old writer, director and actress is teaming up with her "Girls" co-showrunner and producer Jenni Konner to develop a new TV series for HBO based on Betty Halbreich, according to The Hollywood Reporter.
12/09/2012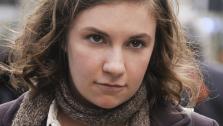 Lena Dunham of the HBO series "Girls" made headlines in recent months for her seven-figure book deal, and now, the 66-page, illustrated proposal has gone viral.
Dunham, 26, recently sold her book of "frank and funny advice on everything from sex to eating to traveling to work" for $3.7 million to Random House publishing in October.
10/27/2012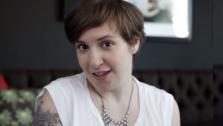 Lena Dunham has laughed off criticism over her provocative "First Time" Barack Obama endorsement commercial.
"It tickles me to no end that while my twitter feed was blowing up with conservative hate, I was literally hanging out in a pile of bisexuals," Dunham Tweeted on October 26.
10/08/2012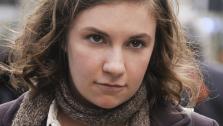 Lena Dunham is known for creating and acting in her Emmy nominated series "Girls," and now, she's adding yet another title to her resume.
Dunham, 26, has signed a seven-figure book deal with Random House Publishing. The Emmy nominated actress is set to publish her essay collection, "Not That Kind of Girl: A Young Woman Tells You What She's Learned," which Random House describes as "in the tradition of Helen Gurley Brown, David Sedaris, and Nora Ephron," offering "frank and funny advice on everything from sex to eating to traveling to work."
Sign up Stay Informed
Entertainment News