Entertainment News: lee dewyze
07/22/2012
Lee DeWyze, the season 9 winner of "American Idol," is now a married man.
The 26-year-old singer wed his fiancee, actress Joanna Walsh, in an outdoor ceremony in Camarillo, California on July 21.
More lee dewyze
07/27/2011
"American Idol" season nine winner Lee DeWyze is off the market ladies!
The singer proposed to his girlfriend, model/actress Joanna Walsh, at Disney World on July 16, reports People. The 25-year-old popped the question on a private yacht while fireworks filled the sky and the two sipped on champagne.
01/05/2011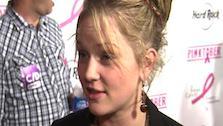 Crystal Bowersox's debut album, "Farmer's Daughter," is outselling Lee DeWyze's record, "Live It Up," sales figures showed on Wednesday, six months after he beat her in the "American Idol" season nine finale to win the FOX singing contest reality show.
Check out a music video for Crystal Bower's single "Farmer's Daughter," the title track of her debut album.