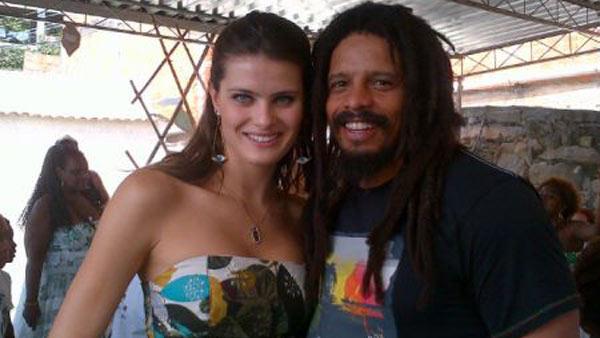 Lauryn Hill's ex Rohan Marley engaged to model Isabeli Fontana
05/16/2012 by Olivia Allin
Rohan Marley, a son of reggae legend Bob Marley and Brazilian Sports Illustrated model Isabeli Fontana have gotten engaged.
Fontana told reporters that the couple plans to wed in Ethiopia, where the Rastafarian movement was founded. According to Contact Music, Fontana told Veja magazine, "Rohan told me we have to return to the roots so the marriage will last forever."
Fontana has been married and divorced twice, to model Álvaro Jacomossi and actor/model Henri Castelli. The 28-year-old model has two sons, one from each marriage - Zion, 9, and Lucas, 5.
Marley, 39, dated former Fugees singer Lauryn Hill, 36, on-and-off from 1996 until 2011. Hill often referred to him as her husband, though their relationship status was never revealed. The couple had five children together - Zion David-Nesta Marley, 14, Selah Marley, 13, Joshua Marley, 10, John Marley, 9 and Sarah Marley, 4.
He also has two children - Eden and Nicolas from his previous relationship with Geraldine Khawly, who he married during college and was still married to when he met Hill.
The pair made headlines last year when it was reported that Marley had left Hill for Fontana while the singer was pregnant with another child, allegedly to another man.
"Contrary to the numerous reports, Mr. Marley did not abandon me while pregnant with his child. We have had long periods of separation over the years but our 5 children together remain a joy to both of us," Hill wrote in a statement on her official website at the time. "Thank you for your concern and I appreciate all of the well wishes regarding the birth of my new son."
Fontana lives in Sao Paulo, Brazil while Marley currently lives in New York City. Marley is the owner of the Marley Coffee company and previously played professional football in the Canadian Football League.
Fontana has appeared in the Sports Illustrated Swimsuit Issue, Victoria's Secret catalogues and has appeared in campaigns for Chanel, Versace, Dolce and Gabbana, H&M, Revlon, Ralph Lauren and others. In 2008, she made Forbes' list of The World's 15 Top-Earning Models, after earning over $3 million.
Fontana's mother Maribel said she is concerned about the engagement, telling Veja, "I think everything is happening too fast but everything has a different rhythm with Isabeli."
Sign up Stay Informed
Entertainment News