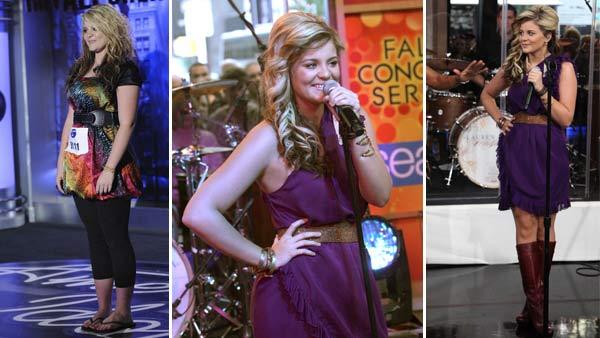 Lauren Alaina of 'American Idol' lost 25 pounds in five months
10/28/2011 by Olivia Allin
Lauren Alaina, who placed second on "American Idol" during the recent 10th season, revealed that she has dropped 25 pounds over the past five months.
"Changing my diet was the big thing," Alaina told Us Weekly magazine. "I had to learn correct portion control."
The singer, who is 5 foot 7 inches tall, told the weekly magazine that she used the meal delivery service Sunfare to ease into a diet that was high on proteins and low on carbohydrates (Alaina is pictured above performing for "American Idol" judges on an episode that aired on January 27, 2011 and performing on "Good Morning America" on October 11, 2011).
"I eat an egg-white omelet for breakfast, shrimp and veggies for lunch and chicken with asparagus for dinner," Alaina continued, adding that "lots of squats have also helped."
"I'm 10 pounds from my goal -- almost there!" the 16-year-old high school junior said. "I wear size small and extra-small now!"
The country and pop singer, who hails from Rossville, recently released her debut album, "Wildflower," which debuted at No. 5 on the Billboard Top 200 albums charts.
"Up super early today for album release week!" Alaina Tweeted. "I love y'all! Thank you so much for everything you do for me. <3"
"Wildflower" includes the song "Like My Mother Does," which Alaina performed on the "American Idol" season finale in May, and "Eighteen Inches," which was co-written by season 4 winner and Grammy-winning country artist Carrie Underwood.
"Carrie Underwood has been a huge influence on who I am," The Hollywood Reporter quoted Alaina as saying. "She started out the same way I did, and she is someone that I look up to so much."
Scotty McCreery, who beat Alaina to win "American Idol," released his debut album, "Clear As Day," on October 4. Five days later, the country crooner celebrated his 18th birthday.
(Copyright ©2014 OnTheRedCarpet.com. All Rights Reserved.)
Sign up Stay Informed
Entertainment News