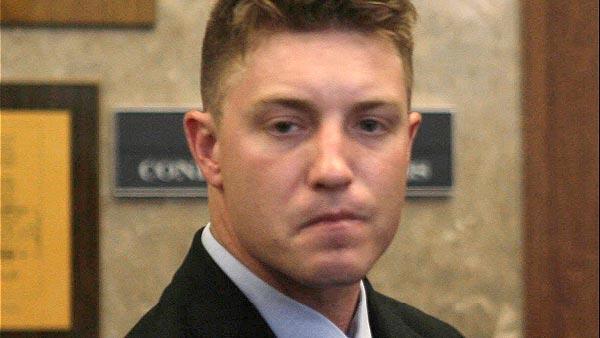 Lane Garrison of 'Prison Break' charged with battery in Ashley Mattingly case
04/26/2012 by OnTheRedCarpet.com Staff
Lane Garrison, who starred in the series "Prison Break," has been charged with battery for allegedly hitting his ex-girlfriend, Playboy model Ashley Mattingly, and could be sent to jail if convicted.
The 31-year-old actor spent more than a year behind bars for a 2007 vehicular manslaughter case involving the death of a teenage boy and his parole was set to end next week. Garrison has been in custody since he was arrested on Sunday after Mattingly reported him to the police, a day after the two were involved in a confrontation at her home. He denied harming her. If convicted, he faces up to one year on county jail and a $2,000 fine.
He was charged on Thursday, April 26, with one count of misdemeanor battery in connection with the incident and is accused of striking Mattingly in the lobby of her Beverly Hills apartment, as the two were exiting an elevator, according to a Los Angeles County District Attorney's Office statement obtained by OnTheRedCarpet.com.
"When witnesses allegedly approached the pair, Garrison ran from the building," the statement said.
Mattingly told TMZ that Garrison "got wasted" and "attacked" her after she "I broke up with him," adding that she planned on pressing charges.
"I have a huge knot on my head and I have bruises all over and from my chest and everything is all beat up," she said.
Garrison is due to be arraigned at a Los Angeles court on Friday and is being held in police custody without bail due to a potential violation of his parole.
Garrison's attorney had told TMZ that Garrison and Mattingly had a fight over a breakup. He added that the actor's parole was set to end in six days.
"She became agitated and basically took his phone and threw it up against the wall," the lawyer told TMZ. "He basically, in order to get out of there, took her by the shoulder to sit her in a chair and left. He never hit or did anything. She then apparently called TMZ then called the police."
Garrison played David "Tweener" Apolskis on the show "Prison Break," which ran from 2005 to 2009. In 2007, he drove a group of teenagers in a car while intoxicated and hit a tree. One of the passengers, a teenage boy, was killed. He has been on parole ever since he pleaded guilty to vehicular manslaughter and was sentenced to 40 months in jail.
He was released from prison in 2009 after serving less than half of his sentence.
(Pictured above: Lane Garrison arrives at the Beverly Hills, California courthouse on Aug. 2, 2007 to be sentenced for an alcohol-related crash that killed a teenage passenger. )
(Copyright ©2013 OnTheRedCarpet.com. All Rights Reserved.)
Sign up Stay Informed
Entertainment News