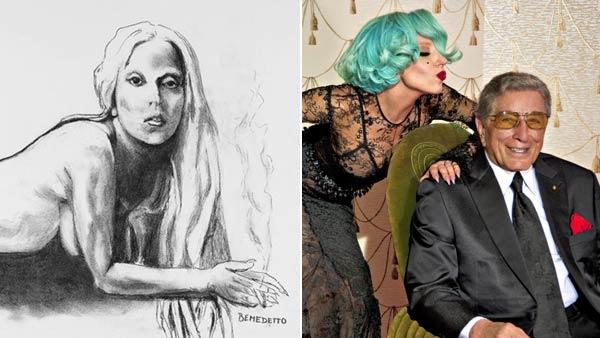 Lady Gaga nude sketch by Tony Bennett to be auctioned off for charity
12/12/2011 by Kristina Lopez
Lady Gaga was not kidding when
she told viewers of her ABC Thanksgiving special that she posed nude for singer Tony Bennett
so he could sketch her and now one lucky fan might be able to nab the work of art. The sketch of Lady Gaga is part of an auction of artwork from Vanity Fair that includes items singed by Gaga as well as photographer Annie Leibovitz. One of Bennett's nude pictures of Lady Gaga is also set to appear in the January 2012 issue of Vanity Fair magazine, at the suggestion of famed celebrity photographer Leibovitz. "Annie Leibovitz wanted me to be naked while Tony sketched me," Lady Gaga told ABC news personality Katie Couric on the show. "So, true to form, as me, I'm always giving my all to my work, I walked in and said, 'Well, Tony, here we are' and he started laughing and I dropped my robe and I got into my position. It was very, very nerve-wracking. I felt a little bit ... I felt shy. It's Tony Bennett, why am I naked?'" In a photo of the sketch above, Lady Gaga is seen from the side, lying on her stomach and propping herself up by her elbows. Fans can bid on the sketch and other items at
eBay.com/celebrity
. Bidding began on Monday, December 12 at 8 a.m. PST and ends on December 19 at 8 a.m. PST.
UPDATE on December 15:
The current winning bid for the sketch, which measures 18 inches wide and 24 inches tall,
is currently $9,100.
The auction has attracted six bidders and 16 bids so far. Other items included in the auction are accessories worn by Lady Gaga for her Vanity Fair shoot for the 2012 issue, an original print of the January 2012 issue featuring Lady Gaga, a first edition copy of Lady Gaga's photography book with Terry Richardson titled "LADY GAGA x TERRY RICHARDSON" and a personalized autographed copy of the book "Tony Bennett in the Studio." Proceeds from the auction items will benefit Exploring the Arts and Lady Gaga's Born This Way Foundation. The
foundation officially launches next year
with the help of the MacArthur Foundation and Harvard University. It is named after both her second album and debut single off the record and will deal with "issues like self-confidence, well-being, anti-bullying, mentoring and career development." The Grammy Award-winning singer will be a director of the foundation along with her mother, Cynthia Germanotta. "Together we hope to establish a standard of Bravery and Kindness, as well as a community worldwide that protects and nurtures others in the face of bullying and abandonment," Gaga said in a statement. Bennett and Lady Gaga
teamed up for the first time ealier this year
. The 85-year-old crooner's most recent album "Duets II" featured a duet with 25-year-old Gaga for the song "The Lady Is a Tramp."
(Copyright ©2014 OnTheRedCarpet.com. All Rights Reserved.)
Sign up Stay Informed
Entertainment News