Entertainment News: kristin davis
06/21/2012
Kristin Davis, who played Charlotte in "Sex and the City," and screenwriter Aaron Sorkin kissed in front of scores of photographers at the red carpet premiere of his new HBO show "The Newsroom" in Los Angeles on Wednesday, June 20, following recent a report about a possible romance.
In late May, E! Online reported that Davis, 47, and Sorkin, 51, had been dating for six weeks. Spokespeople for the two had no immediate comment.
More kristin davis
02/08/2012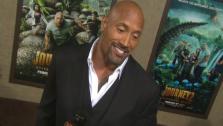 Dwayne Johnson, aka wrestling star "The Rock," is known for hardcore action films and what he calls "intense character" but is happy to switch gears for the new family adventure movie "Journey 2: The Mysterious Island."
In the film, which was released on February 10, Josh Hutcherson plays Sean Anderson, who partners with his mom's new man, portrayed by Johnson, on a mission to find his grandfather, who is thought to be missing on a mythical island. Vanessa Hudgens appears in the film as Hutcherson's love interest, while Kristin Davis of "Sex and the City" fame portrays his mother.
02/10/2012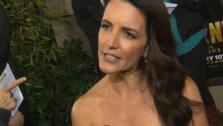 Kristin Davis says she took part in the 2012 adventure film "Journey 2" for three reasons: Josh Hutcherson, Dwayne "The Rock" Johnson and Hawaii.
The family adventure film was released on Friday, February 10. The 46-year-old actress, known for her role on the "Sex and the City" series, appears in "Journey 2: The Mysterious Island" as the mother of Hutcherson's character. In March, the actor can also be seen in the anticipated sci-fi movie "The Hunger Games," which has a massive following, mostly among teenage girls.
02/10/2012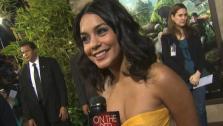 For Vanessa Hudgens, filming a movie in Hawaii has its perks - especially when your co-star provides musical entertainment.
Dwayne "The Rock" Johnson is known for his roles in action-packed films, such as "The Scorpion King" and "Fast Five." In the family adventure movie "Journey 2: The Mysterious Island," the actor and wrestling star also showcases his mellower side.
10/07/2011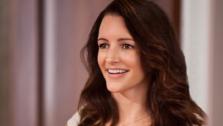 Kristin Davis, who portrayed Charlotte York in the "Sex and the City" franchise, has adopted a baby daughter named Gemma Rose.
"This is something I have wanted for a very long time," Davis told People magazine. "Having this wish come true is even more gratifying than I ever had imagined. I feel so blessed."
Sign up Stay Informed
Entertainment News