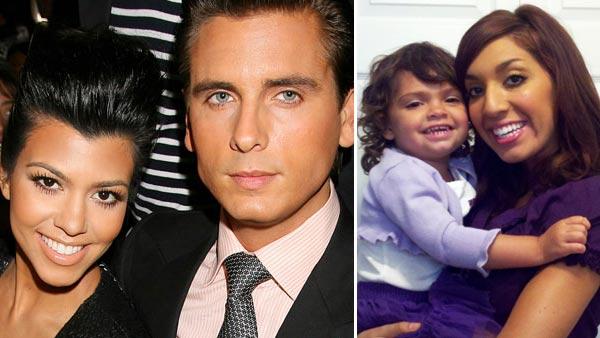 Kourtney Kardashian and 'Teen Mom' Farrah Abraham battle on Twitter
12/05/2011 by Olivia Allin
Kourtney Kardashian was excited to announce that she was expecting her second child with longtime boyfriend Scott Disick last week, but not everyone was happy about the news.
Farrah Abraham, the 20-year-old star of "Teen Mom" took to Twitter to voice her disapproval.
"I'm Shocked Kourtney Kardashian is pregnant again, did she not learn anything from TEEN MOM? Maybe it's a fake pregnancy like kims wedding SAD," Abraham Tweeted on December 2, adding later, "Double standards in this world? Yes & guess what! age and money honestly do not change a person's poor choice . Quit making excuses."
Abraham is one of the four teen mothers who appeared on MTV's "16 and Pregnant" and its spin-off, "Teen Mom." Abraham is mother to 2-year-old Sophia Laurent Abraham, whose father Derek Underwood was killed in a car accident in December 2008, before her birth.
"Why would I have anything to do with teen mom? I'm 32 years old! I may look young honey, but don't get it twisted," Kardashian responded on Twitter.
Disick also shot back at the "Teen Mom," writing, "We're not teenagers, ya [expletive] moron." And when Khloe Kardashian asked if he knew who Abraham was, he wrote, "I just thought she was some [expletive] stain on Twitter, no?"
"Caught wind of these dramatic articles, w/ loser scott disick or some boyfriend of kourtneys, is [expletive] Stain< racist 4 black? Great dad! NOT," Abraham fired back.
Abraham later clarified what she was trying to say, writing on December 2, "4 all who misunderstood: regards to kourtney K. I hope she takes her relationship w/her boyfriend more serious 4 their children-take care."
Kardashian made the announcement of her pregnancy to Us Weekly magazine on November 30.
"Now, I'm nine weeks along," Kardashian told the weekly. "You're supposed to wait 12 weeks to tell people, but I feel confident."
Kardashian said that she took the pregnancy test about five weeks ago and woke up Disick to tell him the news. The couple, who've been together for five years, are parents to their son Mason, who is nearly 2-years-old.
"It wasn't like we weren't trying," Disick, 28, said. "We kind of just said, 'If it's meant to be, it'll be.'"
Kardashian and Disick, have often argued with Kardashian clan matriarch Kris Jenner, who wants the couple to wed.
Kardashian's reality series "Kourtney & Kim Take New York" premiered on Sunday, November 27 to record ratings and featured Disick and Kourtney searching for the spark in their relationship and sleeping in separate bedrooms.
The E! network series also revealed early troubles in Kim Kardashian's marriage to basketball player Kris Humphries, before she filed for divorce at a Los Angeles court, 72 days after getting married.
The wedding of Kardashian and Humphries took place on August 20 under tight security at a $20 million estate near Santa Barbara. More than 500 people, including celebrities, attended the highly-publicized event.
(Copyright ©2014 OnTheRedCarpet.com. All Rights Reserved.)