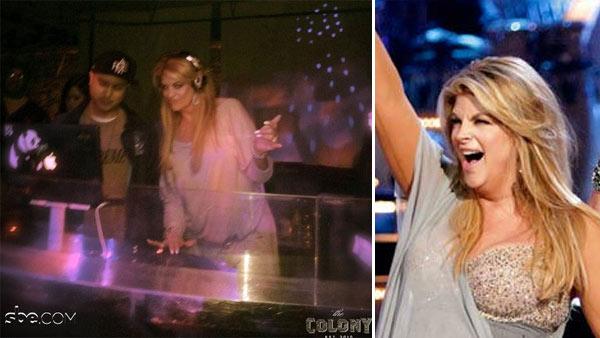 Kirstie Alley is 'one talented DJ' at L.A. nightclub (Photo)
04/21/2011 by Corinne Heller
The "Dancing With The Stars" dance floor isn't the only one Kirstie Alley is trying to heat up. The 60-year-old actress, who is one of seven finalists on the ABC ballroom dancing show, recently showcased her DJ skills at the Colony, a Los Angeles nightclub, under the alias DJ Lil Buttercup. A
photo of Alley at the DJ booth was posted on the Colony's Facebook page
above a message that said: "Our mobile upload doesn't do Kirstie Alley justice.. But not only did she look stunning.. She is one talented DJ..Multitalented indeed! Thank you!!" On Monday, "Dancing With The Stars" contestants danced to patriotic-themed songs. That night, Alley spun tunes at the Colony during its hip hop music-themed night. Her gig
drew out fellow "Dancing With The Stars" contestants Cheryl Burke, Romeo and Kendra Wilkinson and her husband Hank Baskett, People
magazine reported.
"If you happen to be out on the town don't miss my DJ debut...nothing chocolatier than Lil buttercup," Alley Tweeted
on Monday. "DJ Buttercup is callin your name, jack." Also on the past Tuesday, supermodel
Petra Nemcova was eliminated
from "Dancing With The Stars."
Alley said the supermodel was "a real role model
." The remaining contestants are preparing for "Guilty Pleasures" week on "Dancing With The Stars" and will dance songs people are afraid to admit they love on Monday, April 25. The next day's results show will feature performances from pop groups
New Kids on the Block and the Backstreet Boys, who are set to tour North American
with "American Idol" winner Jordin Sparks in the summer, as well as from
Pia Toscano, who was eliminated from "American Idol" earlier this month. Toscano and "Dancing With The Stars" pro-dancer Mark Ballas, Kane's partner, have been the target of dating rumors in recent weeks.
Ballas told OnTheRedCarpet.com
on Tuesday: "She's very lovely. She's awesome. We're hanging out." Watch
photos
from the episode, as well as
video interviews with the cast backstage
, updated after every show.
(Copyright ©2014 OnTheRedCarpet.com. All Rights Reserved.)
Sign up Stay Informed
Entertainment News