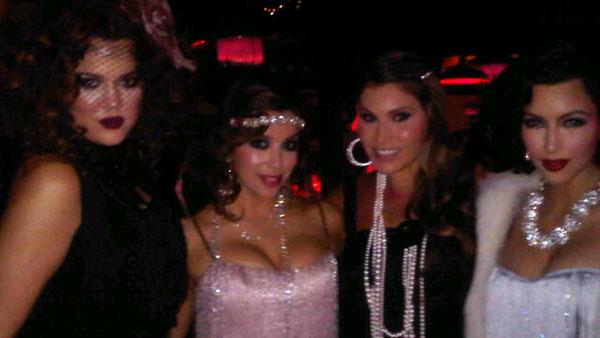 Kim Kardashian helps Eva Longoria celebrate her birthday with flapper party - See photos
03/13/2011 by Kristina Lopez
Eva Longoria celebrated her 36th birthday, which is actually on March 15, with a birthday bash on Saturday that included guests like Kim Kardashian and Heidi Klum. According to Kardashian's Twitter stream, the party had a 1920s theme. "All glammed up for a fun 1920's themed party,"
Kardashian Tweeted on Saturday
. "Celebrating the glamorous @EvaLongoria's bday 1920's style,"
she said in another Tweet
with a photo that pictured birthday girl Longoria and Kim Kardashian's sister Khloe. Since her
divorce to NBA star Tony Parker was finalized in Texas in January
, the "Desperate Housewives" actress has been recently linked to Eduardo Cruz, the 25-year-old younger brother of actress Penelope Cruz, according to
People
. The "Desperate Housewives" star filed for divorce in on November 17, citing irreconcilable differences. Mario Lopez, a host of the television show "Extra" and friend of the 35-year-old "Desperate Housewives" actress, said Longoria found hundreds of text messages from another woman on Parker's phone, who turned out to be the wife of one of the NBA player's teammates. The reports were never confirmed by Parker or his spokesperson. The couple, who met in late 2004, wed in Europe in 2007. The two had no children. This was Longoria's second marriage. She was married to actor Tyler Christopher from 2002 to 2004. Check out Kim Kardashian's photos from Eva Longoria's birthday below:
(Copyright ©2014 OnTheRedCarpet.com. All Rights Reserved.)
Sign up Stay Informed
Entertainment News