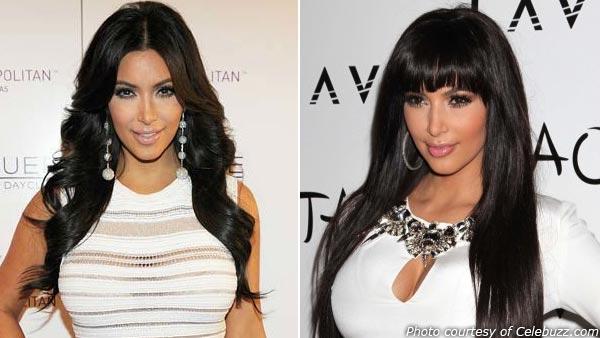 Kim Kardashian debuts new hairstyle at New Year's party - What do you think? (Poll)
01/03/2012 by Kristina Lopez
Kim Kardashian rang in the New Year with a new look. The 31-year-old reality star showed off her new hairtstyle and bangs on New Year's Eve at Tao in The Venetian in Las Vegas. Shortly before the event took place, Kardashian asked her fans if she should go for a new look for the event. "I wanna a new hairstyle for tonight! should I do bangs?" Kardashian
wrote to her fans on Twitter
with an old picture of her with the look. In the photo above, Kardashian can be seen at her 31st birthday party in October on the left and with her new hairstyle during her New Year's Eve celebration on the right. The star of "Keeping Up With the Kardashians" and "Kourtney & Kim Take New York"
said her New Year's resolution
was "to really give back more and not make everything so much about myself." Kardashian just earned a guest spot on Tim Allen's "Last Man Standing" playing herself, according to
TVLine
. The storyline will include the middle daughter of Allen's character who is obsessed with reality shows. An ABC spokesperson confirmed Kardashian's participation. The reality star has played herself on television before in a 2010 episode of "90210" and in a 2009 episode of "How I Met Your Mother." What do you think of Kardashian's new look? Vote in our poll below.
(Copyright ©2014 OnTheRedCarpet.com. All Rights Reserved.)
Sign up Stay Informed
Entertainment News