Entertainment News: kendall jenner
04/12/2013
More kendall jenner
03/27/2013
Kim Kardashian's 17-year-old sister Kendall Jenner says she is "constantly criticized for being too skinny" and is unable to gain weight.
Kendall, who stars in Kardashian's E! reality show "Keeping Up With the Kardashians" and also works as a model, made her comments to Harper's Bazaar Arabia in an interview published as part of an April 2013 cover story.
02/07/2013
Kim Kardashian's sisters Kendall and Kylie Jenner and mother Kris, as well as Jillian Michaels, Toni Braxton, talk show host Wendy Williams, Olympic gold medal-winning gymnast Gabby Douglas and actress Minka Kelly walked the runway at the Heart Truth Red Dress Collection 2013 Fashion Show in New York on Wednesday, Feb. 6, 2013.
Check out PHOTOS of the celebrities at the event, which promotes awareness about heart disease, was held as part of New York Fashion Week, where top designers are showcasing their fall 2013 lines.
01/21/2013
The Los Angeles County Sheriff's Department is investigating a false emergency call reported at a former residence of Kim Kardashian's family, which spurred authorities to later swarm the reality stars' current neighborhood, while the actress herself has condemned the incident as "dangerous."
The call was made two days before the season 3 premiere of "Kourtney & Kim Take Miami" -- a spin-off of the family's main E! reality show "Keeping Up With The Kardashians" -- which aired on Sunday, January 20.
01/18/2013
Several police officers rushed to the Los Angeles area neighborhood of Hidden Hills, near the home of "Keeping Up With The Kardashians" stars Kris and Bruce Jenner on Friday, January 18.
However, authorities confirmed to KABC-Television, OTRC.com's parent company that the address given to the dispatch by the caller was not the Kardashian address. The origin of the call was unclear and the address given to the police was not disclosed. Officers received a call that there was someone being injured or possibly assaulted. However, when the police arrived they discovered nothing was happening at the location. Authorities are not calling it a swatting call.
08/18/2012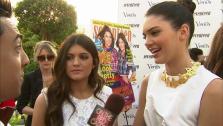 Kendall Jenner has signed on to make her acting debut on the CBS crime drama series, "Hawaii Five-O."
"I am SO excited to reveal to you all that I am going to be making my acting debut on Hawaii Five-O. My episode will air in October this year and I can't wait to get started on filming," Jenner wrote on her blog on August 17. "This is such an incredible opportunity for me and I'm excited for this new experience."
08/06/2012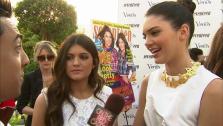 Over the weekend, Kendall and Kylie Jenner talked to OnTheRedCarpet.com about their Seventeen magazine correspondent gig, the first red carpet in their honor and their favorite sister to steal clothes from.
"I think we steal each other's clothes more, but we borrow our other sister's clothes. We are always in each other's closets," Kendall Jenner told OnTheRedCarpet.com at their Seventeen magazine cover party. "I think [we borrow from] Kourtney [Kardashian the most]. We take a lot of her clothes because she's really generous and she just gives it to us."
08/06/2012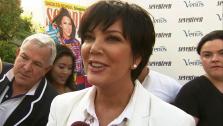 Kris Jenner talks to OnTheRedCarpet.com about her daughters Kendall and Kylie Jenner.
08/06/2012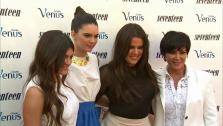 Khloe Kardashian and Kendall, Kylie and Kris Jenner pose on the red carpet.
08/06/2012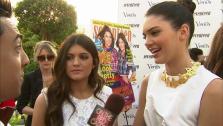 Kendall and Kylie Jenner talk to OnTheRedCarpet.com about their plans for the future.
Sign up Stay Informed
Entertainment News