Entertainment News: kelly ripa
05/03/2013
Kelly Ripa gave fans a glimpse of what her 1996 wedding to husband Mark Consuelos looked like.
The 42-year-old daytime talk show host shared a photo from her wedding on Twitter on Wednesday, May 1.
More kelly ripa
01/16/2013
Kelly Ripa admits in a new interview that she gets Botox injections on her eyelids and occasionally in her armpits to avoid sweating.
The 42-year-old was interviewed for Elle magazine and the interviewer follows Ripa to a New York City spin class. Writer Irina Aleksander notes that once the intense class is over, Ripa looks almost the same as she had arrived.
09/04/2012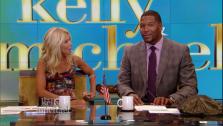 Kelly Ripa formally introduced on Tuesday retired NFL star Michael Strahan as the new co-host of her syndicated morning show, which has been renamed "LIVE! with Kelly and Michael."
Strahan, 40, picked his pint-sized co-host up off the floor and gave her a giant hug as colorful confetti and balloons rained down. Check out a recap of the episode.
09/04/2012
Kelly Ripa on Tuesday introduced former NFL star Michael Strahan as her new co-host for "LIVE!"
For the last several weeks, Strahan has been rumored to be the front-runner to replace Regis Philbin. Strahan has co-hosted several times over the past year, including as recently as August 17.
08/20/2012
Kelly Ripa will soon have a permanent co-host sitting next to her every morning on "LIVE!"
It was announced on August 20 that the co-host will be revealed on September 4 when they join Ripa in the "LIVE!" studio for their first official appearance on the show as the permanent co-host. The name of the program will also change to accommodate the new co-host's name.
05/03/2012
Actors have worked plenty of odd jobs on the path to fame and Kelly Ripa isn't afraid to open up about her husband's unique path.
In an interview with George Wayne, set to appear in the June issue of Vanity Fair magazine, the "Live! With Kelly" morning talk show host confirmed that her husband Mark Consuelos, 41, was once a stripper.
03/14/2012
Kelly Ripa and her husband, Mark Consuelos, have teamed up to produce a documentary series about cheerleading called "CHEER" for CMT, the network announced on March 14.
According to a statement from the network, the show will be a one-hour, six-episode series and the couple will serve as executive producers on the show through their company Milojo Productions. "CHEER" will document a hard-driving coach named Patty Ann Romero and her cheerleading team on their journey to world cheerleading championships.
09/22/2011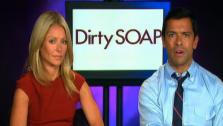 Kelly Ripa and Mark Consuelos have a special connection to "All My Children" and recently opened up to OnTheRedCarpet.com about how they feel about the end of the series.
Ripa played Hayley Vaughan on "All My Children" between 1990 and 2001. Ripa began acting on "All My Children" when she was 19 as Hayley Vaughan. On the set she met Mark Consuelos, who played her on-screen love interest Mateo, in 1995. The two married in 1996 and are parents to sons Michael, 13, and Joaquin, 8 and daughter Lola, 9.
09/22/2011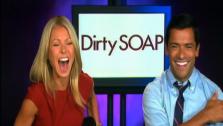 The two dish about upcoming reality series 'Dirty Soap.' The former soap stars are the executive producers.
09/22/2011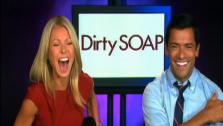 The former soap stars and long-time married couple open up about what it is like to work together.
09/22/2011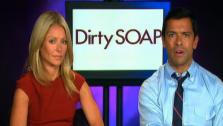 Kelly Ripa and Mark Consuelos talk about the end of 'All My Children,' which airs its series finale on Sep. 23.