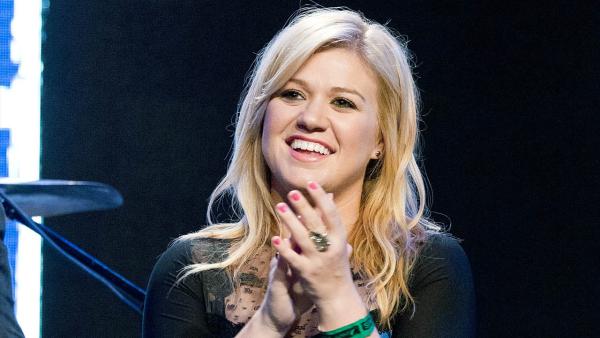 Kelly Clarkson: Clive Davis said false things about me in memoir
02/19/2013 by Nichole Hamilton
Kelly Clarkson is opening up about Clive Davis' memoir - and she's NOT very happy. "So I just heard Clive Davis is releasing a memoir and spreading false information about me and my music," Clarkson wrote on her
official WhoSay
page. "I refuse to be bullied and I just have to clear up his memory lapses and misinformation for myself and for my fans. It feels like a violation. Growing up is awesome because you learn you don't have to cower to anyone - even Clive Davis." Clarkson, 30, gained popularity as the first winner on the widely popular music competition show, "American Idol," going on to work with some of music's elite to create her numerous chart-topping hits. The "Stronger" singer went on to point out what she claims are inaccuracies in the music executive's book. "First, he says I burst into 'hysterical sobbing' in his office when he demanded 'Since You Been Gone' be on my album," Clarkson said. "Not true at all. His stories and songs are mixed up. I did want more guitars added to the original demo and Clive did not. Max, Luke and I still fought for the bigger sound and we prevailed and I couldn't be more proud of the life of that song. I resent him dampening that song in any way." "But, yes, I did cry in his office once," she continued. "I cried after I played him a song I had written about my life called 'Because Of You.' I cried because he hated it and told me verbatim that I was a '(expletive) writer who should be grateful for the gifts that he bestows upon me.' He continued on about how the song didn't rhyme and how I should just shut up and sing." The singer, who
recently became engaged to 35-year-old Brandon Blackstock
, went on to dismiss Davis' allegations that her third studio album, My December, wasn't successful because she co-penned it. "Well, first let me say, I've co-penned many of my 'pop hits,'" Clarkson explained. "Secondly, My December went platinum (It sold 20,000 less than All I Ever Wanted which followed My December.) Hardly a huge failure. Never Again, the ONLY single they released in the US from that record was a Top 10 hit." "I am very proud of that and I have my fans to thank," she continued. "But, again, what's most interesting about his story is what he leaves out: He doesn't mention how he stood up in front of his company at a convention and belittled me and my music and completely sabotaged the entire project. It never had a chance to reach it's full potential." In 2007, numerous outlets reported that the pair disagreed over the direction of the pop rock album. That May, Clarkson told the Associated Press that the
situation was "blown up,"
and that artist-label disagreement can be healthy. In March 2008, Davis said that
singers should focus on what they do best
and not feel pressured to write their own songs, adding: "The odds are always against you." Clarkson
Tweeted
and posted the link to the online rant on
Facebook
, garnering over 26,000 likes in only 2 hours. The singer concluded the post by expressing her love for her loyal fans. "Anyway, I love my job," she concluded. "I love my music. I love my fans. I love my label and all of my professional relationships ... now. And I am grateful for Clive for teaching me to know the difference." On February 19, Davis appeared on ABC's "Nightline" to promote his new memoir, "The Soundtrack of My Life," which chronicles his time spent with music legends Whitney Houston, Bruce Springsteen, Bob Dylan and more. The music executive also
opened up to the show's host about his sexuality
, saying that he has dated both men and women. "I'm not lying and [bisexuality] exists," he explained to Cynthia McFadden. "For over 50 years I never had sex with a male. It wasn't repressed. I had very good sexual relationships with women." The biography was
released
on Tuesday, February 19 (
Read more about Davis
).
(Copyright ©2014 OnTheRedCarpet.com. All Rights Reserved.)
Sign up Stay Informed
Entertainment News