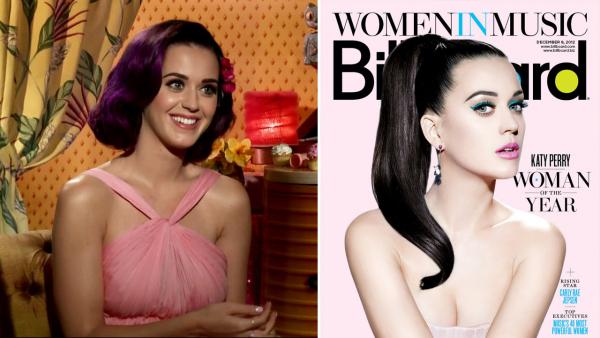 Katy Perry is named Billboard Woman of the Year
12/02/2012 by Nichole Hamilton
Katy Perry was named the "2012 Woman of The Year" at Billboard magazine's Women in Music event on November 30. The 28-year-old singer is an eight-time Grammy Award nominee, has released two successful studio albums and has sold over 74.6 million digital tracks worldwide. The singer was honored at the event which took place in New York, and took time to explain why she doesn't necessarily see herself as a role model. "I am not a feminist, but I do believe in the strength of women," Katy Perry said during her "Woman of the Year" acceptance speech at
Billboard's Women In Music 2012
luncheon. "I don't really like to call myself a role model for my fans. I hope that I am an inspiration for them, especially young women. My mantra, especially for the ['Part Of Me'] film, was: If you believe in yourself, you can be anything." Carly Rae Jepsen was also honored at the prestigious event, receiving Billboard's "Rising Star" award. Perry's third studio album, the 2010 record "Teenage Dream," spurred six chart-topping hits over the past two years. Her recent "California Dreams" tour grossed $59.5 million with 124 shows. The singer and performer also has two successful perfumes, Meow and Purr, and recently
released her concert film "Katy Perry: Part of Me 3D"
in June. Her first studio album, "Katy Hudson," was released in 2001 and marks the singer's only gospel record before she switched over to pop in 2008, releasing what would become a hit album, "One of the Boys." In 2010,
Fergie received the prestigious Billboard honor
, and in 2011,
Taylor Swift became the youngest performer
to nab the award. Watch Perry's "Woman of the Year" Q&A session below.
(Copyright ©2014 OnTheRedCarpet.com. All Rights Reserved.)
Sign up Stay Informed
Entertainment News