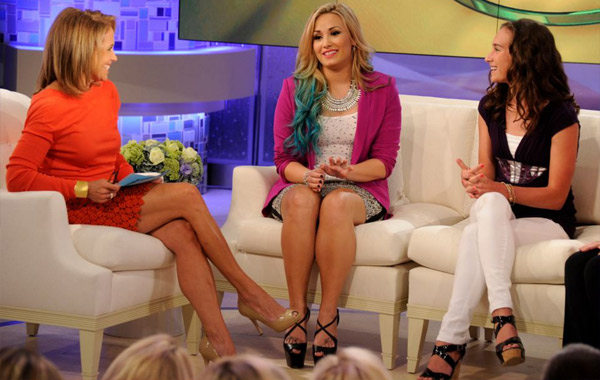 Katie Couric reveals bulimia battle, talks to Demi Lovato about eating disorder
09/24/2012 by Corinne Heller
Katie Couric recently interviewed singer and "X Factor" judge Demi Lovato about her body image struggles and other personal turmoil on her talk show "Katie" and revealed a shocker - she had suffered from an eating disorder herself as a young adult. Couric, 55, made her comments to Dr. Cynthia Bulik, Director of the University of North Carolina Eating Disorders Program, on the episode, which aired on Monday, September 24 at 3 p.m. ET. "I wrestled with bulimia all through college and for two years after that," Couric said, according to
ABC News
. "I know this rigidity, this feeling that if you eat one thing that's wrong, you're full of self-loathing and then you punish yourself, whether it's one cookie or a stick of gum that isn't sugarless, that I would sometimes beat myself up for that," she said. "That is such a huge thing for people who wrestle with this." Couric, whose syndicated talk show debuted earlier this month, had never spoken about the issue publicly. The former "Today" show host and CBS "Evening News" anchor graduated from the University of Virginia in 1979 with a with a bachelor's degree in English. She
interviewed Arnold Schwarzenegger's daughter Katherine for CBS in 2010
about her body image battles and made no reference to her own eating disorder then. Lovato, 20, dropped out of a tour with the Jonas Brothers in 2010 to seek medical treatment for what she called "emotional and physical issues" and spent about two months at a facility.
She has since opened up about her personal struggles with drugs, alcohol, anorexia, bulimia, depression, cutting and bullying
in print and television interviews. Lovato told Couric she wanted to be "very thin," adding that she remembers running her hand over her tummy at age 3. "I remember thinking in my head, 'I wonder if one day this will ever be flat?" she said. After she was treated, Lovato launched a career comeback and earlier this month, made her debut as a new co-judge, alongside fellow newbie Britney Spears, on the season 2 premiere of Simon Cowell's FOX singing contest series "The X Factor."
Lovato had told Ellen DeGeneres on her talk show in 2011 that she wants to be a role model for teenage girls
who feel the pressure to be thin. The singer was recently named a celebrity ambassador for Secret deodorant's "Mean Stinks" anti-bullying campaign.
(Copyright ©2014 OnTheRedCarpet.com. All Rights Reserved.)
Sign up Stay Informed
Entertainment News