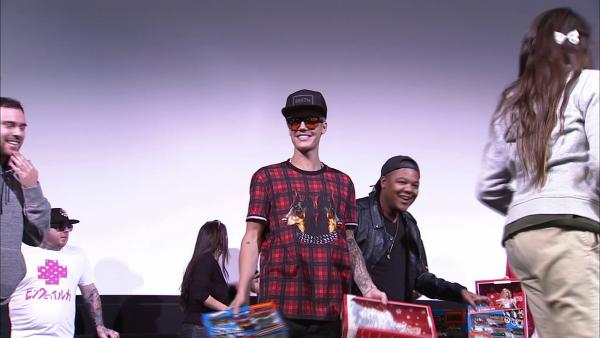 Justin Bieber charged with assault in Canada (Update)
01/29/2014 by Corinne Heller
Justin Bieber's legal problems appear to keep mounting up.
The 19-year-old teenage pop star turned himself in to police in his native Canada on Wednesday, Jan. 29, and was charged with criminal assault, stemming from a case involving a limo driver a month earlier, the Associated Press reported. Bieber has not commented on the matter. This marks his second formal arrest in less than a week. Earlier in the day, he pleaded not guilty to charges stemming from a DUI case in Florida.
He emerged from a black SUV wearing a winter coat and a backwards cap and was met at the station by reporters and screaming fans, the Associated Press said. Bieber was charged with one count of assault and is set to appear in court in Toronto on March 10, the outlet reported. After being processed, he was released by police.
Authorities say Bieber and five other people rode in a limo after leaving a nightclub in Toronto early on Dec. 30 and that there was an altercation, during which one of the passengers hit the driver in the back of the head several times. They said in a statement: "'The driver stopped the limousine, exited the vehicle and called police. 'The man who struck him left the scene before police arrived."
Bieber's lawyer told the Associated Press that the singer is innocent and that he expects the case to be treated as a low-level offense, the equivalent of a misdemeanor in the United States.
Earlier, Bieber's manager, Scooter Braun, tweeted this: "For all those asking @JeremyBieber and @pattiemallette love their son. Stop passing judgement on a situation u dont understand. I ask people to be kind and hope for the best in people. not assume the worst. thanks (sic)."
According to local TV news channel CBC News and newspaper Bieber's upcoming Valentine's Day arraignment over DUI and other charges following his Jan. 23 arrest in Miami Beach, Florida, and amid an investigation into possible felony vandalism of his California neighbor's home.
Earlier on Wednesday, Bieber pleaded not guilty to all charges regarding his Florida case, the Associated Press reported. Also, before it was reported he had turned himself in to police in Toronto, released a new music video, "Confident."
(Pictured above: Justin Bieber surprises fans at a screening of his new movie 'Believe' on Dec. 16, 2013. He handed out toys to a lucky group of Beliebers.)
(Copyright ©2014 OnTheRedCarpet.com. All Rights Reserved.)
Sign up Stay Informed
Entertainment News