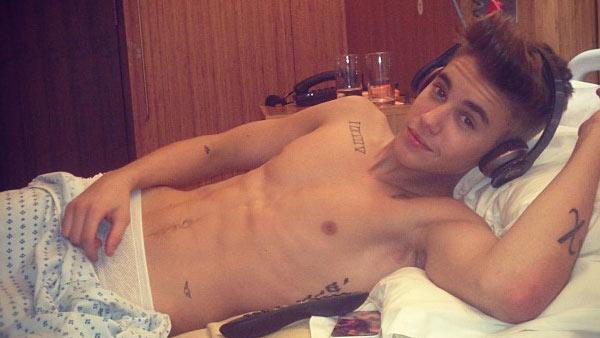 Justin Bieber faints at London concert, rep confirms (Photo)
03/07/2013 by OnTheRedCarpet.com Staff
Justin Bieber collapsed during his London concert on March 7, according to reports, and his spokesperson confirmed the 19-year-old singer fainted and is seeking medical help. Bieber experienced breathing troubles while performing at the O2 Arena in London, according to
E! News
. He reportedly told the audience he was not feeling well and was checked out backstage. In a statement to
KABC Television
, OTRC.com's parent company, a spokesperson for Bieber said the singer was "heading to the doctor now. He fainted and took a 20 minute reprieve and was given oxygen." Bieber
Tweeted about the incident
on March 7 and wrote, "Getting better. thanks for everyone pulling me thru tonight. best fans in the world. figuring out what happened. thanks for the love." The singer posted a
photo of himself on his Instagram
account lying in a hospital bed shirtless with the caption, "Gettin better listening to Janice [sic] Joplin." Bieber also
posted another photo of the hospital hallway
with the caption, "Hospital hallways creepy."
UPDATE on Friday, March 8:
Justin Bieber signaled that he is still set to perform another gig in the city on Friday, March 8, as scheduled and also got into a confrontation with a paparazzo
. The singer
recently celebrated his 19th birthday
on March 1 with a night out in London that did not end well. The singer Tweeted it was his "worst birthday" but later deleted the Tweet. The rumors for his worst birthday included explanations like people within his group getting into an argument and the singer's attempt to get 14-year-old friend Jaden Smith (son of actor Will Smith) into the 18-and-over night club Cirque du Soir in London. However, the singer explained his "worst birthday" comment in
a post on his Instagram account
on March 3 which said, "The funny moment when people believe I brought underage people to a club.. U think Will is letting his 14 year old in a club, I don't think so.." "2nd I love how the club wanted to give the press another reason to why we didn't stay at their weak [expletive] club so they wouldn't look bad for me walking in and right back out," he added. "I said m 'worst bday' but that was due to dummies pushing over my fans and being overly aggressive. Btw it wasn't the worst bday cuz all my friends from back home flew in I was just mad in the moment."
(Copyright ©2014 OnTheRedCarpet.com. All Rights Reserved.)
Sign up Stay Informed
Entertainment News