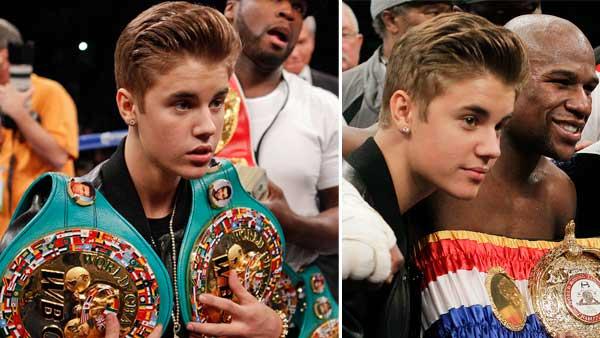 Justin Bieber escorts Floyd Mayweather to boxing ring - See photos
05/06/2012 by Kristina Lopez
Justin Bieber was on hand for the thrilling boxing match between former "Dancing With The Stars" contestant Floyd Mayweather Jr. and Miguel Cotto on May 5 at the Las Vegas MGM Grand.
The 18-year-old singer escorted the boxer, whose record now stands at 43-0 after defeating Cotto by a unanimous decision, and even carried some of his championship belts to the ring. Rapper Lil Wayne and 50 Cent were also part of the 35-year-old boxer's entourage.
"@FloydMayweather Hard Work & Dedication," Bieber Tweeted at 3 a.m. on May 6. "Congrats champ. glad i could be a part of it."
"In and out of vegas for the fight. now back for rehearsals tomorrow. goodnight world. hard work and dedication," he later added on May 6.
Mayweather competed on the fifth season of "Dancing With The Stars" in 2007. His partner was Karina Smirnoff and the two were the fourth couple to be eliminated in the competition that season, landing in ninth place.
Justin Bieber broke another YouTube record recently. His single "Boyfriend" accumulated over 8 million views in its first 24 hours online. The single is off his third studio album "Believe" due for release on June 19.
The YouTube record is not Bieber's first. In November 2011, Bieber broke a different YouTube record, becoming the first person to have his videos viewed 2 billion times on his official channel.
Bieber also holds the world record for the most popular video on YouTube with his breakout 2010 single "Baby," which has been viewed more than 733 million times since it was posted in February of that year.
What do you think of Justin Bieber's music video for "Boyfriend"? Watch the video and vote in our poll below.
(Copyright ©2013 OnTheRedCarpet.com. All Rights Reserved.)