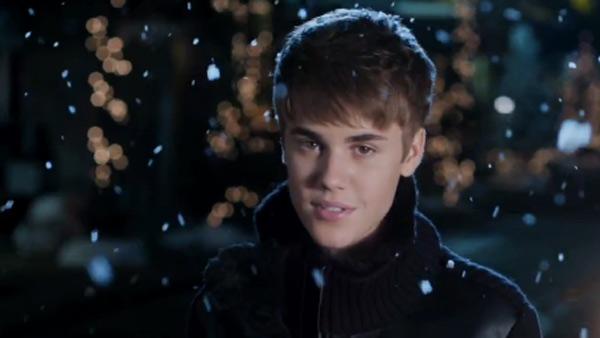 Justin Bieber breaks YouTube record with 2 billion views, beats Lady Gaga, Michael Jackson
11/01/2011 by Corinne Heller
Teen pop sensation Justin Bieber has broken a YouTube record - he recently became the first person to have his videos viewed 2 billion times on his official channel. The 17-year-old Canadian singer, who released his new Christmas album, "Under the Mistletoe," on Tuesday, November 1, beat artists such as Lady Gaga, Eminem, Britney Spears and the late Michael Jackson. He broke the record over the weekend, according to
Famecount.com
, an internet research firm that measures celebrity trends and social networking statistics. Bieber was discovered through YouTube. In 2007, he captured the attention of record company executives, who watched his homemade music videos. The clips featured him singing songs, including those by R&B artist Usher, who later became his mentor. Famecount.com said the singer's channel on the video website was viewed some 94 million times during the past month alone, due in part to the release of his new Christmas single, "Mistletoe," which hits stores in mid-October. Bieber also holds the world record for the most popular video on YouTube with his breakout 2010 single "Baby," which has been viewed more than 650 million times since it was posted in February of that year. In late August, the
singer's clips were taken down from YouTube's music video website Vevo after a copyright infringement claims
were made by another firm, alarming Bieber's fans and many of his 13.9 million Twitter followers. Vevo later said the claims were fraudulent and the videos were reposted. Last December,
YouTube unveiled its list of most watched music videos of 2010 and Bieber came in first with "Baby."
He also placed sixth, seventh and ninth with his clips for the songs "Never Say Never," "Never Let You Go" and "Somebody to Love - remix," which featured Usher. Also in 2010,
Lady Gaga
beat Bieber's YouTube record after racking up more than 1 billion views for her videos. The teenager came in second. Bieber is currently promoting his new album, which contains the single "Mistletoe" as well as a duet of "All I Want For Christmas Is You," which features original singer
Mariah Carey
. Bieber is set to perform another song from the record, "Fa La La," with R&B group Boyz II Men on the ABC reality show "
Dancing With The Stars
" on Tuesday night. The teen singer is also scheduled to sing his hit single, "Never Say Never" during the episode, which airs live on ABC at 9 p.m. ET. Check out a list of music artists and groups with the most video views on YouTube, as of late Monday, October 31. 1. Justin Bieber - 2 billion + views
2. Lady Gaga - 1.88 billion + views
3. Rihanna - 1.7 billion + views
4. Eminem - 1.51 billion + views
5. Shakira - 1.21 billion + views
6. Black Eyed Peas - 1.11 billion + views
7. Britney Spears - 1.01 billion + views
8. Beyonce - 1 billion + views
9. Chris Brown - 868,000 + views
10. Michael Jackson - 810,000 + views Check out Justin Bieber's music videos for "Mistletoe" and "Baby" below.
(Copyright ©2014 OnTheRedCarpet.com. All Rights Reserved.)
Sign up Stay Informed
Entertainment News