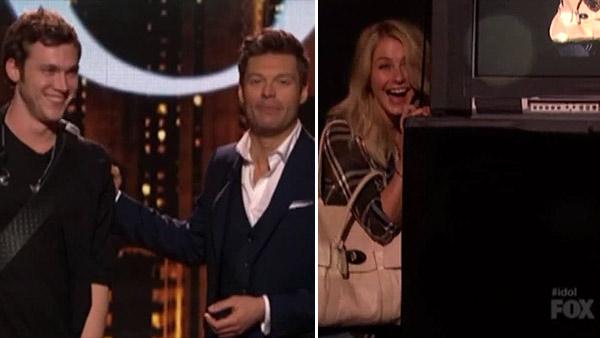 Julianne Hough 'called out' on 'American Idol' over Phillip Phillips crush
04/26/2012 by Corinne Heller
"American Idol" host Ryan Seacrest told finalist Phillip Phillips during Wednesday's episode that his girlfriend Julianne Hough appears to have a crush on him, drawing laughs from the "Dancing With The Stars" alum and actress as the camera panned to her.
Phillips, a 21-year-old Georgia rocker, said he found the moment "soo funny." He is being touted as the heartthrob of the current 11th season of the FOX singing contest series and has drawn comparisons to Dave Matthews due to his raspy voice and guitar performances. He performed "The Stone" by Dave Matthews Band on Wednesday's show.
"True story - we were backstage a few minutes ago and I think you ran by my girlfriend who's here," Seacrest told him on stage. "She sighed and blushed. I think I heard her say, 'Yummy' ... we'll be having this conversation after the show, darling."
Hough, dressed in a plaid shirt and clutching a purse, was seen cracking up laughing as he made his comment and said something inaudible as she tried to hide behind what appeared to be a black speaker and monitor.
"@juliannehough hahahah it was soo funny when ryan called you out last night, i didnt excpect that! haha (sic)," Phillips Tweeted on Thursday to his some 228,000 followers.
A viewer speculated on Twitter that Hough had uttered an expletive, calling it the best part of the show, to which the actress replied: "Oh man! Is that what I said?! Lol."
The first half of the "American Idol" episode was dedicated to the iconic rock band Queen and featured performances by the group's guitarist Brian May and drummer Roger Taylor. Phillips performed a heavy metal version of the band's hit single "Fat Bottomed Girls" and earned praise from the judges.
On Thursday, April 26, he faces potential elimination, along with remaining finalists Jessica Sanchez, Elise Testone, Hollie Cavanagh, Joshua Ledet and Skylar Laine.
Also, Katy Perry will perform her newest single, "Part of Me," a Queen cover band called The Queen Extravaganza will perform "Somebody To Love" and "American Idol" season 10 finalist Stefano Langone will perform his new single, "I'm On A Roll."
Hough, 23, and Seacrest, 37, have been dating since the spring of 2010. She is a professional dancer who was a cast member on "Dancing With The Stars" between 2007 and 2009. She has appeared in films such as "Burlesque" and the 2011 reboot of "Footloose" and is currently promoting her new film "Rock of Ages."
The movie is based on a Broadway musical and features 1980s hair metal hits and power ballads. Hough plays a small town girl, Sherrie Christian, who moves to Los Angeles to pursue singing. She has the hots for Tom Cruise's character, rock legend Stacee Jaxx, and aspiring rocker Drew Boley, portrayed by Diego Boneta. /p>
In a recently-released trailer, Cruise sings a Bon Jovi song on stage while shirtless. The actor studied with Guns N' Roses' singer Axl Rose's vocal coach to prepare for the role.
"Wow listening to the opening credits song of @rockofagesmovie and @TomCruise killed/annihilated/destroyed it!" Hough Tweeted on Thursday. "Aaahhh I'm screaming!!!! :)
(Copyright ©2014 OnTheRedCarpet.com. All Rights Reserved.)