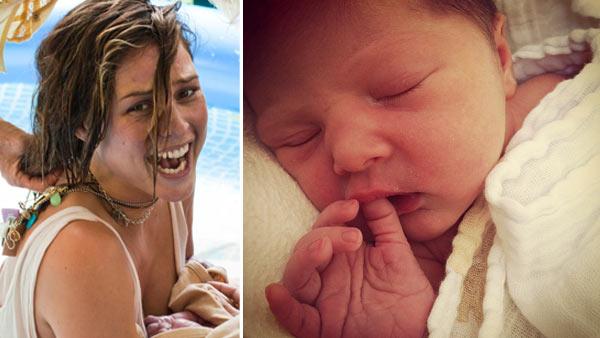 Josie Maran welcomes her second daughter, shares photos
07/02/2012 by Olivia Allin
Josie Maran welcomed her second child with longtime boyfriend, photographer Ali Alborzi, on July 1, 2012, the model confirmed on Twitter.
"She's here!! Heavenly creature," Maran Tweeted on July 2, with a photo of her newborn daughter (pictured above).
The 34-year-old kept fans updated on her pregnancy on the micro-blogging site and Tweeted on June 30, "On my way to Mexican food to try and spice this munchkin out of me" and adding the following day, "Spicy food worked!!! My water just broke!!!xx."
The baby weighed in at 7.4 lbs. and is 20 inches long. The 34-year-old founder of Josie Maran Cosmetics went through four hours of labor and had a water birth in the backyard of her family's farm in Pennsylvania, according to People magazine.
The baby girl, who has not yet been named, joins her 6-year-old sister Rumi Joon, who was named after the Persian mystic poet and philosopher Rumi.
"I've learned a lot about myself by watching Rumi Joon grow up," Maran told People magazine in January, after announcing her pregnancy. "Just seeing her smile makes me realize that being happy is the ultimate beauty secret, and I can't wait to welcome this new addition to my family."
Maran Cosmetics COO and the model's labor coach Ali wrote on the company's Facebook page, "Josie was in labor exactly as she is in life: determined, confident, and most of all, full of love."
The natural cosmetics line, which Maran launched in 2007, shared a photo of the beauty shortly after giving birth (pictured above) on its official Facebook page.
In addition to modeling, Maran has appeared in several films including "Van Helsing," "Little Black Book" and "The Aviator." She also appeared on "Dancing With The Stars" in 2007 - she and her dance partner Alec Mazo were the first to be eliminated.
(Copyright ©2013 OnTheRedCarpet.com. All Rights Reserved.)