Entertainment News: josh brolin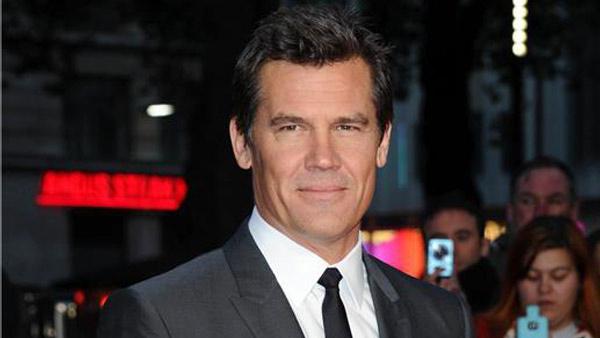 11/22/2013
Josh Brolin has reportedly checked into rehab.
The 45-year-old actor is seeking treatment at a facility in northern California, People magazine reports. A spokesperson for the actor had no immediate comment on the report.
More josh brolin
02/22/2013
Diane Lane filed for divorce from Josh Brolin a day after Valentine's Day, OTRC.com has learned.
The two have been married for eight years and have no children together. A spokesperson for both actors had confirmed to OTRC.com on Thursday, February 21, that they had plan to end their marriage.
02/21/2013
Josh Brolin and Diane Lane are going their seperate ways.
Brolin and Lane, 48, are ending their eight year marriage, OTRC.com has confirmed on February 21.
01/05/2013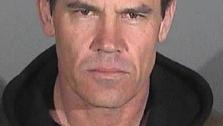 Josh Brolin was arrested for misdemeanor public intoxication in Santa Monica, California, on January 1, it was revealed recently.
The 44-year-old actor was detained just before midnight on New Year's Day after police found him drunk on a sidewalk in the city, according to the Associated Press. He was not ticketed for the incident, the news wire said, quoting a police spokesperson as saying that Brolin will probably not have to appear in court.
05/26/2012
Josh Brolin told OnTheRedCarpet.com that he studied Tommy Lee Jones "for months" to play a younger version of his character in "Men in Black III."
"Because I knew Tommy, I was a little - it was exciting - but I was less nervous than I probably would have been," Brolin told OnTheRedCarpet.com in a recent junket interview. "It was abject fear that I was feeling in the beginning and I wanted Tommy to like it... probably not a great career move on my part& Just the idea of doing something that could've failed miserably. I'm just glad I didn't get in the way of the movie. I'm happy about that."
05/23/2012
Emma Thompson talks about taking part in 'Men In Black 3,' talks about all of the love and romance that's in the film.
05/23/2012
Josh Brolin talks about studying Tommy Lee Jones for months in order to get his part right for 'Men in Black 3.'
05/23/2012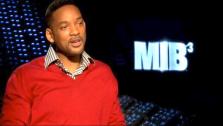 Will Smith talks about the complexity of 'Men in Black 3,' says it's probably his most unique film.
05/11/2012
Ryan Gosling and Sean Penn star in 'Gangster Squad,' which hits theaters in late 2012.
12/12/2011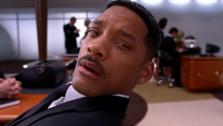 The first trailer for "Men in Black III" has been released and sees Will Smith's character, alien-fighting Agent J, "jumping" back in time to 1969 and teaming up with his old partner, Agent K.
It also shows Josh Brolin doing his best Tommy Lee Jones impression, as the "True Grit" and "No Country For Old Men" actor plays a younger Agent K. Jones reprises his role as the present-day version of the character.
05/02/2012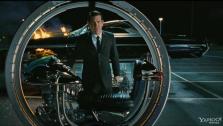 The first clip from the upcoming film "Men in Black III" has revealed stars Will Smith and Josh Brolin using monowheels as transportation.
In the clip, a young Agent Kay (Brolin) asks Agent Jay (Smith), "Do you have these in the future?" while pulling the vehicles out from under their destroyed car. The pair then proceed to chase down a time-traveling alien named Boris (Jermaine Clement of "Flight of the Conchords") who came back to 1969 in an attempt to remove Agent Kay from existence.
04/15/2012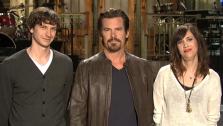 Wouter De Backer, an Australian singer/songwriter better known by his stage name Gotye, made his debut on the "Saturday Night Live" stage on April 14 in an episode hosted by actor Josh Brolin.
Gotye was joined on stage by Kimbra to perform their hit single "Somebody That I Used To Know." The song recently reached No. 2 on the Billboard 100 songs chart on April 11 and was recenctly covered by Elise Testone and Phillip Phillips on "American Idol," Lindsey Pavao on "The Voice," and Darren Criss and Matthew Bomer on "Glee." The music video for the single also has over 158 million views on YouTube.
04/14/2012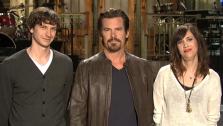 Josh Brolin is set to host the April 14 episode of NBC's "Saturday Night Live," which marks the actor's second time hosting the comedy sketch series.
Brolin is currently promoting his upcoming movie "Men in Black III" and will be joined by musical guest, Gotye, whose single "Somebody That I Used To Know" has become a smash hit.