Entertainment News: jon bon jovi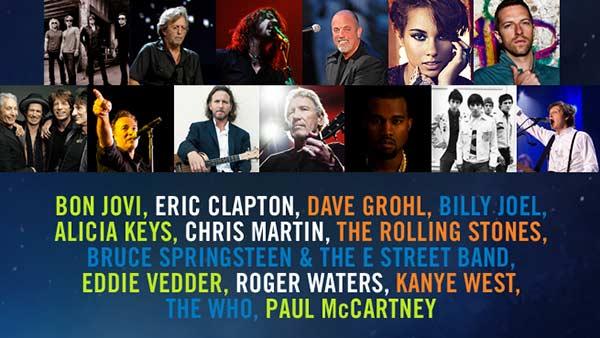 12/12/2012
The 12-12-12 Concert for Sandy Relief, aimed at raising funds to help those affected by Hurricane Sandy, will be broadcast live from Madison Square Garden in New York on December 12 at 7:30 p.m. ET to some 2 billion people worldwide.
The event, whose proceeds will benefit the Robin Hood Relief Fund, will feature performances from Paul McCartney, David Grohl of Foo Fighters, Alicia Keys, The Who, Eddie Vedder, The Rolling Stones, Eric Clapton, Chris Martin of Coldplay, Bruce Springsteen and the E Street Band and Kanye West. Watch the concert on OTRC.com.
More jon bon jovi
12/03/2012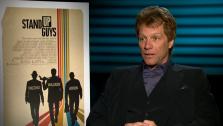 Jon Bon Jovi recently opened up more about his daughter's recent drug arrest, citing her "sudden and steep decline."
"I didn't have any sisters," Bon Jovi told the Associated Press in an interview published on December 3. "We bring home this girl the first day. Now what? Where's the manual? There was no manual. So you bring her up the best you can, you surround her with hugs and kisses and know that she may eventually fall down. I appreciate the outpouring of kindness in light of what happened in my household."
11/21/2012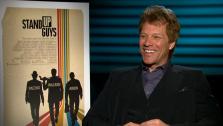 Jon Bon Jovi talks to OTRC.com about his acting career, his music for 'Stand Up Guys' and Hurricane Sandy.
11/21/2012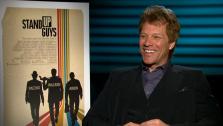 Jon Bon Jovi has appeared in films and television but is nowadays concentrating on his music career and work with his rock band, which is preparing for another world tour, and his efforts to help the survivors of Hurricane Sandy.
He recently returned to writing music for films and has contributed two songs to the new crime comedy "Stand Up Guys," which stars Al Pacino and Christopher Walken.
11/21/2012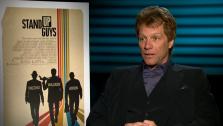 Jon Bon Jovi has opened up about his 19-year-old daughter Stephanie Bongiovi's recent drug arrest and reported heroin overdose, saying his family will get through the "tragedy."
Bongiovi was hospitalized earlier this month was charged with drug possession after police responded to an emergency call at Hamilton College in New York. She and a male student were arrested for drug possession. The charges were later dropped due to a state law that exempts people who suffer overdoses or those who report them from being prosecuted for drug cases.
09/06/2012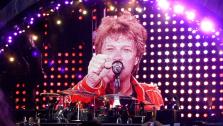 Jon Bon Jovi's 19-year-old daughter Stephanie Bongiovi will no longer have to face drug charges following her recent arrest at Hamilton College because of a New York State law amendment that offers an exemption from criminal prosecution if an emergency call was made to report an overdose.
The incident occurred early on Wednesday. Police were called to a residence hall to investigate a report about a woman who had suffered an apparent heroin overdose. Bongiovi was taken to a hospital. Officers later found heroin and marijuana in a dorm room and arrested her and a 21-year-old male student, who had made the emergency call.
11/14/2012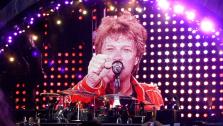 Jon Bon Jovi's 19-year-old daughter Stephanie Bongiovi has been arrested on suspicion of drug possession after police investigated a report of a woman who allegedly overdosed on heroin at a dorm at Hamilton College in New York.
Investigator Peter Cania, who works for the Town of Kirkland police department, told the Associated Press that Bongiovi is recovering at a hospital that he declined to name. Bongiovi and Bon Jovi's rep had no immediate comment.
09/06/2012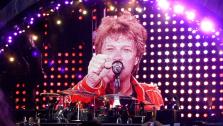 A New Jersey man has pleaded guilty to burglarizing Jon Bon Jovi's house and other homes and faces up to five years in prison.
Nicholas Tracy, 22, entered his plea at a court in Freehold on Tuesday, the Associated Press reported. He carried out the thefts between March and April of 2011. The homes are located on the same road near the Jersey shore. Tracy stole more than $300,000 worth of personal items from the homes, including jewelry valued at about $100,000 from Bon Jovi's house, court records show.
07/02/2012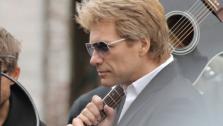 For many Bon Jovi fans, the words "Jon Bon Jovi" and "Unplugged" bring to mind an acoustic performance by frontman Jon and guitarist Richie Sambora at the 1989 MTV Video Music Awards as well as a intimate 1992 MTV concert that featured the heartthrob singer rocking a pair of ridiculously tight jeans.
Now, some 20 years later, Jon Bon Jovi, 49, has teamed up with popular cosmetics company Avon, the self-proclaimed "company for women" to launch a line of "Unplugged" fragrances for members of both genders.
12/19/2011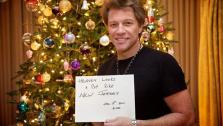 Jon Bon Jovi is the most recent target of the celebrity death hoax, but rest assured, he is alive and well.
The rocker posted the photo pictured above on his band's official Facebook page, holding up a sign with the current date, time and joking that, "Heaven looks a lot like New Jersey."
Sign up Stay Informed
Entertainment News