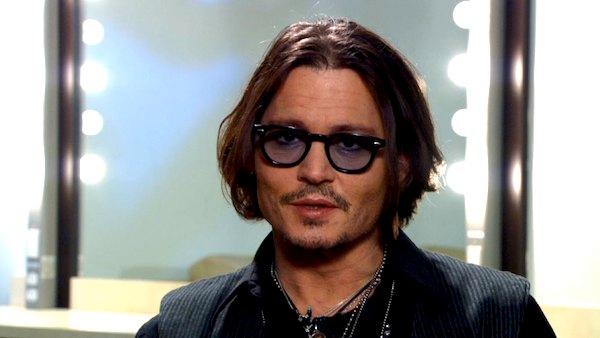 Johnny Depp assault lawsuit over injured concertgoer dropped
08/10/2012 by OnTheRedCarpet.com Staff
A disabled woman who sued Johnny Depp, claiming he failed to stop bodyguards from assaulting her at rock concert, was forced to drop her case on Thursday. On August 9, a Los Angeles Superior Court judge dismissed many of the claims made by the 52-year-old professor, who said that the actor's bodyguards assaulted, injured and humiliated her during an Iggy and the Stooges rock concert held at the Hollywood Palladium on December 1, 2011. The plaintiff identified herself as "Jane Doe" in her filing, which can only be used in extreme cases or when there is risk of retaliation. According to legal documents obtained by OnTheRedCarpet.com, the judge ruled that the moniker was not appropriate since the incident occurred in a public place and there are "no allegations concerning sexual activity or other sensitive or private conduct." The woman, a doctor and assistant clinical professor of medicine at the University of California's Irvine Medical School, now has 20 days to amend the battery complaint with her real name. The judge also stated that she could not demand punitive damages, attorney's fees or negligent infliction of emotional distress, since Depp had no preexisting relationship with the woman. The judge also dropped several other causes of action. The plaintiff
filed the suit against Depp and the promoter Live Nation in April
, stating that when she returned to her VIP seat at the concert, Depp's security detail "suddenly grabbed" her from behind, "bear-hugged her" and restrained her wrists, dragged her to an upper balcony and dropped her on the ground, then "forcefully pried the iPhone" from her hands, "one finger at a time." She claimed that the two security men came back with handcuffs, told her they were off-duty police officers and tried to apprehend her. She said she was handcuffed and that her cries were ignored, including by the actor. She added that Depp's three security men dragged her across the floor of the theater. She says they "repeatedly yanked the handcuff chain upwards towards the ceiling, causing severe injuries and trauma" to her wrists, arms and body, adding that as she was dragged, her "pants were removed from her torso and hips, exposing her buttocks to the other Hollywood Palladium Theater patrons." The security guards allegedly dragged her up a flight of stairs in front of other people. She said she "suffered injuries and extreme and outrageous humiliation." Eventually, they removed her handcuffs and theater employees forced her outside, she says. The woman said she later reported the incident to the police and that her "extensive injuries" exacerbated pre-existing conditions and caused her pain, insomnia and numbness in her feet and left her left hand "virtually immobilized." She added that she has been forced to wear braces on her wrists and that her doctors believe she broke bones. The woman said that as a result of the incidents, she currently suffers depression, insomnia, post-traumatic stress disorder, nightmares and phobias and that she is now unable to "perform simple everyday tasks," such as cleaning her home, using a computer, cooking, grooming herself or driving. She said she was put on medical leave before the concert and that she is now unable to return to work.
Depp's spokesperson confirmed on June 19 that the actor and Paradis, his partner of 14 years, had split
. The pair has two children, daughter Lily-Rose, 13, and son Jack, 9.
Depp is currently linked to Amber Heard
, his co-star in the 2011 movie "The Rum Diary." The two have not confirmed a relationship.
(Copyright ©2014 OnTheRedCarpet.com. All Rights Reserved.)
Sign up Stay Informed
Entertainment News