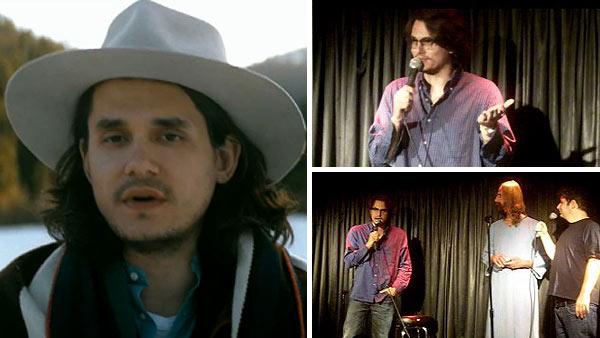 John Mayer explains sexually-explicit interviews: 'I didn't want to be boring'
05/21/2012 by Corinne Heller
John Mayer has opened up about controversial sexually-explicit and racist comments he made in 2010 to Playboy magazine, saying he didn't want to sound "boring." The seven-time Grammy winner is trying to make a comeback with a new album, "Born and Raised," almost two years after he spurred controversy with his remarks and months after he was forced to cancel a tour due to health reasons. In early 2010, the 34-year-old singer said in an interview with Playboy magazine that his past relationship with pop star Jessica Simpson was like "sexual napalm" and talked about his dream of writing pornography. He also described his penis as "sort of like a white supremacist," saying he was not open to having sex with black women. Around the same time, Mayer also gave a sexually-explicit interview to Rolling Stone and confessed he had not yet gotten over his split with Jennifer Aniston. He later apologized for his remarks, saying he didn't "have the stomach" to be a "shock jock." He quit Twitter and told fans at a concert in Nashville he had "quit the media game." He recently addressed the controversy in a recent interview with
NPR on the station's show "All Things Considered,"
. Mayer also talked about his failed attempts at stand-up comedy. The singer has gone up on stage at several outlets, such as at the World Famous Comedy Store in Los Angeles in November 2010. "I remember going like, 'Well, I really want to do comedy. Well, should I be able to do comedy?' Probably not. If I had just been a dude off the street, saying, 'I want to do stand-up comedy,' I don't think I would've been let on the stage," he said. "I never would've been on the cover of Rolling Stone if someone had seen me do eight minutes on stage." Mayer said at the time, that he was "so confused" as to why people would be interested in what he had to say. "And so, when it came time to do these interviews where I had nothing to say - I was going through a time in my life where I didn't really want to share what was going on, but I didn't want to be boring," he said. "I got in the worst trouble, ever, over and over again in my life from the time I was 4 till two years ago because I didn't want to be boring." "And I remember thinking to myself, 'Well, this is Rolling Stone. You gotta give a Rolling Stone interview," he said. "And that's the miscalculation. The only thing you have to do is be honest. But I wasn't prepared to be honest but I knew that I had to be open. When you're just open because you think you need to be, but not honest, then you start, sort of, free-associating garbage." Mayer also said he was a "control freak" and wanted to try and change the opinions of people who viewed him as "D-bag," adding: "I became so committed to the idea .. of correction that I completely lost sight of what the original plan was, which was to make music for anybody who wants to hear it." Mayer maintained a lower public profile after the media storm. "Born and Raised," which is set for release on Tuesday, May 22, is the first major record he has released since the controversy. Mayer has battled a major health issue over the past year - he had undergone surgery in 2011 to remove a granuloma, a non-cancerous nodule, near his vocal cords. He was supposed to embark on a U.S. tour, his first concert series in two years, to promote the album but announced in March that he had to cancel it because the granuloma had grown back. "I'm not in recovery at the moment," he told NPR. "I'm actually just in a holding pattern until I can get the wherewithal, the discipline back again, the endurance to go through a six-month period of extreme self-discipline. There's no talking for the first month, probably, and then there's whispering. " "But really what this has to do with is diet," he added. "Basically, if you made a list of all that things that you enjoy eating or drinking, it's not allowed - you can't do those things. Doctors have said, 'You just live like a monk.'" Check out the
music video for ""Shadow Days"
the lead single from John Mayer's new album, "Born and Raised."
(Copyright ©2014 OnTheRedCarpet.com. All Rights Reserved.)
Sign up Stay Informed
Entertainment News