Entertainment News: jimmy fallon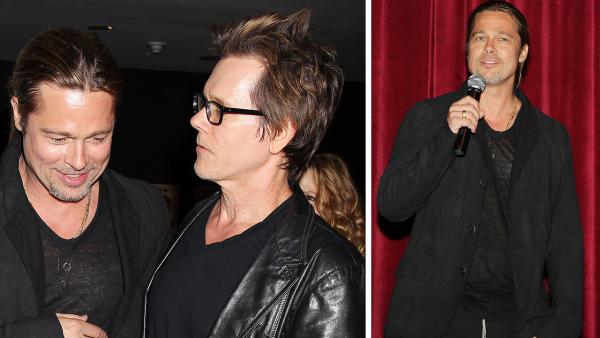 05/23/2013
Brad Pitt co-hosted a 'World War Z' screening on May 22, 2013. Celebrities who attended include Kevin Bacon, Bruce Willis and his wife, Sting and his wife, Jimmy Fallon and Morgan Freeman.
Check out photos from the event. The movie is set for release on June 21, 2013.
More jimmy fallon
04/24/2013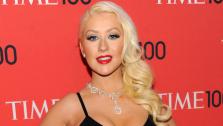 Christina Aguilera appeared at the TIME 100 Gala on Tuesday, April 23, 2013, in a cut-out, black, Victoria Beckham dress.
She was joined on the red carpet by Lena Dunham, Olivia Munn, Claire Danes, Jessica Biel, Justin Timberlake, Mia Farrow, Barbara Walters, Marissa Mayer, Ricky Gervais, Bryan Cranston, Jimmy Kimmel, Jimmy Fallon, Roma Downey and more. Check out photos.
04/04/2013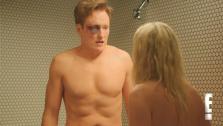 Conan O'Brien recently surprised Chelsea Handler in the shower ... in a naughty "nude" sketch on her E! talk show "Chelsea Lately."
The host of TBS' "Conan" shows off a toned stomach as he approaches Handler, and accuses her of stealing his former studio -- and his parking space. Last year, "Chelsea Lately" was moved to the home of "The Tonight Show with Conan O'Brien," which lasted seven months during an NBC shakeup that saw host Jay Leno leaving in 2009 and then returning following lackluster ratings.
04/03/2013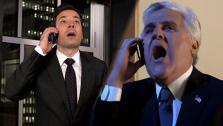 Jay Leno is leaving "The Tonight Show" in spring 2014 after hosting the late-night talk series for 22 years and will then be replaced by Jimmy Fallon, NBC announced on Wednesday, April 3.
The news comes following weeks of reports that Fallon, an "SNL" alum and current host of "Late Night," which airs an hour later, would take over hosting duties and after Leno had made numerous jokes about the network in his monologues. He and Fallon addressed the rumors in a video spoofing the "West Side Story" song "Tonight."
12/05/2012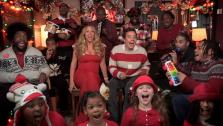 Jimmy Fallon and the Roots got into the holiday spirit on his NBC talk show "Late Night" on Tuesday night with guest singer Mariah Carey, who brought with her a touch of nostalgia.
Wearing a red gown with white, glittering embellishments around her shoulders and red platform heels, the pop star and new co-judge of FOX's "American Idol" sang an acoustic version of her 1994 hit "All I Want For Christmas Is You."
10/30/2012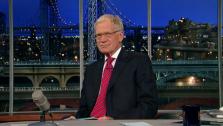 David Letterman's and Jimmy Fallon's monologue jokes on their late-night talk shows on Monday night mostly fell flat - notably because there was almost no one there to clap for them.
The two taped their programs that day without much of a studio audience as scores of people in New York City, where the programs are filmed, and the rest of the East Coast hunkered down and avoided traveling due to the devastating Hurricane-turned-Superstorm Sandy.
05/04/2012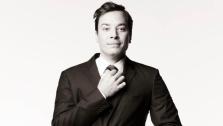 Jimmy Fallon isn't hiding anything on the cover of his new album - literally.
The 37-year-old talk show host and comedian is releasing his second major record this summer. He posted a photo of the unique and somewhat graphic cover art on his Twitter page, saying: "Pre-order our album "Blow Your Pants Off." (See above).
03/25/2012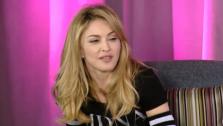 Madonna gave Jimmy Fallon the only promotional interview for her upcoming album "MDNA" on Saturday, March 24.
The interview was conducted on Facebook in a live stream video on Madonna's official Facebook page and the singer answered questions from fans from around the world. Madonna also taught the talk show host one of her signature dance moves.
02/09/2012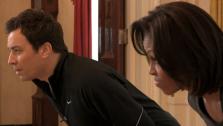 Jimmy Fallon made the mistake of challenging first lady Michelle Obama to a fitness competition to promote her Let's Move campaign.
The late night host visited the White House for Tuesday night's episode of "Late Night with Jimmy Fallon." His first embarrassment is showing up in a skintight electric blue lycra bodysuit, which Michelle immediately vetoes and the White House Portuguese water dog Bo (in his acting debut) looks at disapprovingly.
12/18/2011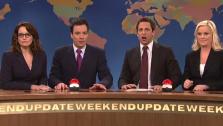 Jimmy Fallon returned to his old stomping grounds at the studio where "Saturday Night Live" is filmed on December 17. The comedian, who was a cast member on the show from 1998 to 2004, returned to studio 8H for his first time as a host.
Fallon also brought back classic characters and "Saturday Night Live" veteran performers like Tina Fey, Amy Poehler, Chris Kattan and Tracy Morgan.
09/30/2011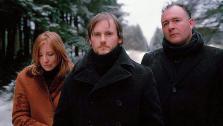 Portishead is slated to appear on "Late Night with Jimmy Fallon" next week, marking the band's first TV appearance in 13 years.
The British band was popular in the '90s but has been relatively off the radar since they released their third album, "Third" in 2008. Earlier in the year, the band announced plans for a new album and tour. They will perform on "Late Night" on Wednesday, October 5.
04/27/2011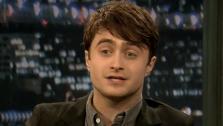 Daniel Radcliffe, who is best known for his role in "Harry Potter," made his comedy stand-up debut on "Late Night with Jimmy Fallon" on Monday.
The actor is best known for his dramatic roles in the "Harry Potter" franchise and on-stage in "Equus," but he attempted to demonstrate his comedy chops on the evening talk show. What do you think of Radcliffe's stand-up debut? Watch the clip and vote in our poll.
04/01/2011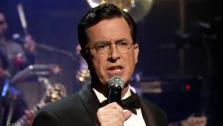 Jimmy Fallon and Stephen Colbert placed a good natured bet earlier this week on "The Late Show with Jimmy Fallon" when the host challenged his viewers to raise $25,000 for DonorChoose.org in exchange for Colbert to sing the viral hit "Friday" by Rebecca Black.
Viewers ended up exceeding Fallon's expectations by raising over $64,000 to the charity, which helps classrooms in need.
12/22/2010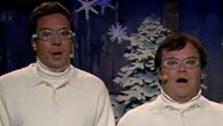 Jack Black and Jimmy Fallon recently parodied Bing Crosby's and David Bowie's classic Christmas duet, "Peace on Earth / Little Drummer Boy", on "Late Night With Jimmy Fallon".
Actors Will Ferrell and John C. Reilly, who played immature adults in the 2008 comedy "Step Brothers", also recorded a video of them singing the holiday hit on the website FunnyOrDie.com. Whose version of the duet do you like best?
Sign up Stay Informed
Entertainment News