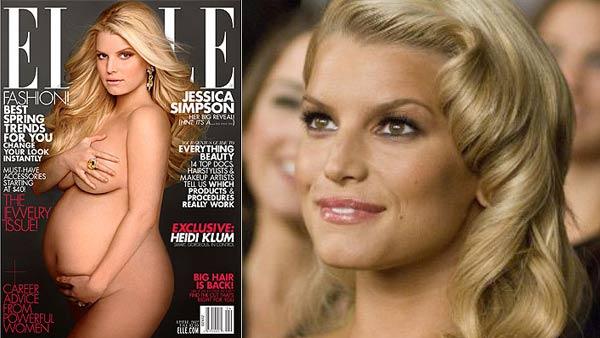 Jessica Simpson nude and pregnant on Elle cover, expecting girl (Photo)
03/07/2012 by Nichole Hamilton
Jessica Simpson has joining a long list of celebrities who have appeared on magazine covers while pregnant and nude and also reveals that she is expecting a baby girl. Simpson, 31, shows off her bare baby bump on the cover of the April 2012 edition of
Elle
magazine. The 31-year-old mom-to-be is expecting her first child with fiance Eric Johnson. She told the magazine that the baby is a girl and that she hopes their daughter will have a knack for fashion. "I swear, I will croak if she asks me for a pair of Nikes instead of Christian Louboutins!" she said. "Eric is so athletic. We're gonna have this athletic girl and I won't even be able to take her shopping." Simpson, a pop singer, clothing designer and cast member of the upcoming NBC reality show "Fashion Show," added that she could feel that she was pregnant subconsciously. "We were gonna have an all-day drinking binge," Simpson told Elle. "Gonna ride our bikes, hang out ... do naughty things. But I started feeling this overwhelming guilt. Why would I feel guilt at the idea of going out and having cocktails with my friends?" Celebrities such as
Demi Moore, Britney Spears and Christina Aguilera also posed nude while pregnant for magazines (see photos)
. Simpson and Johnson announced their engagement in November 2011. This will be the second marriage for both. Simpson is meanwhile
gearing up for the premiere of "Fashion Star"
. where she'll serve as a mentor alongside Nicole Richie and John Varvatos. The show is hosted by supermodel Elle Macpherson and sees contestants competing to become the next big fashion designer. The judges are buyers from major retailers such as H&M and Macy's. The series premieres on Tuesday, March 13 at 9:30 p.m. ET. Simpson's past collections of apparel, perfume and other products, which are marketed to young women, have raked in about $1 billion in sales. The singer also launched her own line of diamond jewelry with Zales and teamed up with celebrity aesthetician Nerida Joy to launch BeautyMint, an online portal that sells anti-aging skincare.
The starlet has recently said that she plans on adding a maternity line to her ever growing empire
. What do you think of Simpson's nude pregnancy cover? Vote in our poll below. Also, watch a preview of NBC's new series "Fashion Star."
(Copyright ©2014 OnTheRedCarpet.com. All Rights Reserved.)
Sign up Stay Informed
Entertainment News