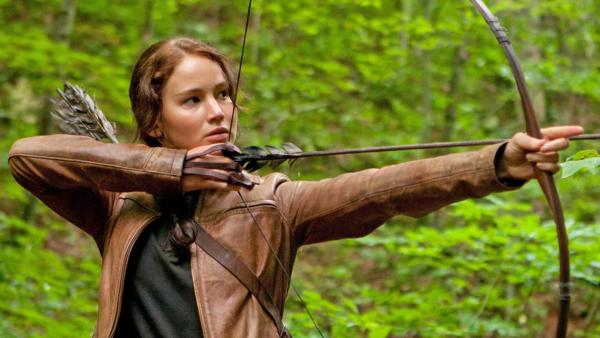 Jennifer Lawrence reportedly negotiating $10 million salary for 'Catching Fire'
08/07/2012 by Kristina Lopez
Jennifer Lawrence is reportedly seeking a big raise for "The Hunger Games" sequel "Catching Fire." The 21-year-old is negotiating in the $10 million range to reprise her role as Katniss Everdeen for the second film in the franchise, according to
The Hollywood Reporter
. The actress could earn even more money depending on how "Catching Fire" does at the box office. The industry paper had previously reported that Lawrence was paid $500,000 upfront for the first film, which was released in March. "The Hunger Games" went on to gross $683.8 million worldwide. Lawrence signed a deal to do four films in the franchise, according to the Hollywood Reporter, but producers sought to renegotiate her contract once the film became a hit. It
was announced in July that "Mockingjay,"
the final book in "The Hunger Games" book trilogy by Suzanne Collins, will be split into two films set to be released in 2014 and 2015, thus turning the franchise into four films. Lawrence's "Hunger Games" co-stars Liam Hemsworth and Josh Hutcherson have already renegotiated their contracts for smaller raises the report says. The second film in the franchise, officially titled "The Hunger Games: Catching Fire," is set to begin filming in September in Georgia. In "Catching Fire," Peeta Mellark (Josh Hutcherson) and Katniss must return to The Hunger Games arena for the Quarter Quell, a special event in Panem which commemorates The Hunger Games every 25 years. For the 75th Hunger Games and the third Quarter Quell, two former winning tributes (victors) from each district from previous Hunger Games must return to the arena and battle to the death again.
Phillip Seymour Hoffman has been cast as Plutarch Heavensbee
, Head Gamemaker for The Hunger Games. Jenna Malone will play Johanna Mason, a tribute that competes in the Quarter Quell. "Snow White and the Huntsman" actor
Sam Claflin is rumored to be cast as Finnick Odair
, another tribute in the games. Francis Lawrence will take over directing duties for "Catching Fire" after "The Hunger Games" director Gary Ross dropped out due to time constraints. Lawrence, who was born in Austria and was raised in California, previously helmed the 2011 romantic drama "Water For Elephants," "I Am Legend" and the 2005 movie "Constantine." "Catching Fire" is set for release on Nov. 22, 2013.
(Copyright ©2014 OnTheRedCarpet.com. All Rights Reserved.)
Sign up Stay Informed
Entertainment News