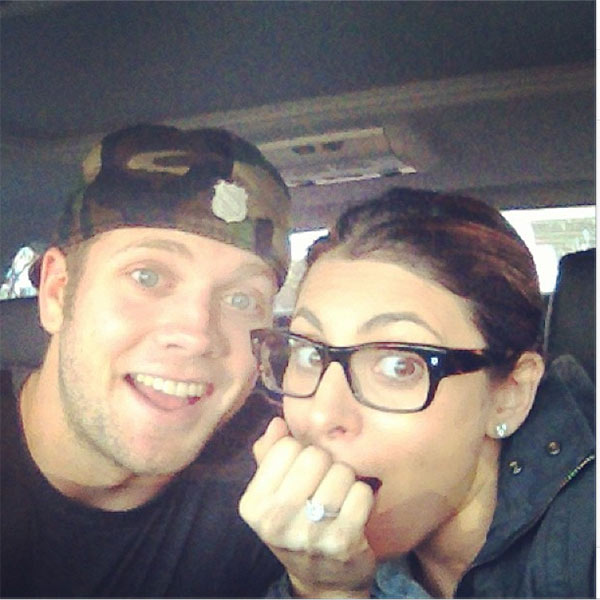 Jamie-Lynn Sigler engaged to Cutter Dykstra - see her ring (Photo)
01/28/2013 by Corinne Heller
Jamie-Lynn Sigler, formerly of "The Sopranos," is engaged to baseball player Cutter Dykstra?
"So this just happened....<3 <3 @cutterdykstra," Sigler Tweeted on Monday, January 28, alongside what appears to be "selfie" Instagram photo of the two, which shows her sporting a diamond ring on her ring finger on her right hand.
"She said yes!!" Dykstra said on Twitter, reTweeting her picture.
The 31-year-old actress, who currently stars on NBC's "Guys With Kids," and the 23-year-old Washington Nationals minor league infielder have been dating for about a year. They met through his friend and New York Yankees baseball player Nick Swisher and his wife Joanna Garcia, an actress who is best friends with Sigler. The four follow one another on Twitter.
"Thank you so much for all the love everyone," Sigler added on Monday. "I am so happy and more importantly lucky ! @CutterDykstra.
She also Tweeted a link to a story by blogger Perez Hilton about her being engaged, saying: "Thank you, Perez!"
Sigler, who played Meadow on the show "The Sopranos," has been married before. She and her then-agent, A.J. DiScala, wed in 2003 and divorced in 2005. Dykstra, the son of former New York Mets and Philadelphia Phillies baseball player Lenny Dykstra, has never been married.
Sigler previously dated Jerry Ferrara, her love interest on "Entourage." She met him on the set of the HBO show in 2008. The broke up a year later. In 2010, the actress was linked to NFL player Mark Sanchez for several months.
(Copyright ©2014 OnTheRedCarpet.com. All Rights Reserved.)
Sign up Stay Informed
Entertainment News