Entertainment News: james cameron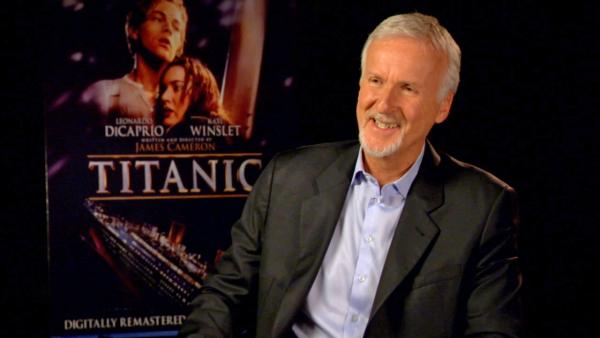 09/08/2012
James Cameron told OTRC.com that the upcoming "Titanic 3D" DVD and Blu-ray release will include a whopping 57 minutes of deleted scenes and two and a half hours of new footage.
"There are two documentaries, they're very separate in subject - one is about the making of the film and the whole phenomenon, like what happened while it was being made, how they crucified us and thought we were complete idiots and then it came out and it was the highest-grossing film in history," Cameron told OTRC.com in a recent interview. "There's a whole, really interesting behind-the-scenes story there and then the other documentary is about all the dives that I've done and that our group has done to the wreck site and all the forensic analysis of the wreck that we've done over the last decade and a half, starting before we even shot the movie."
More james cameron
09/07/2012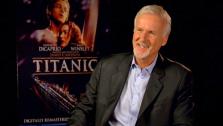 James Cameron talks 'Titanic 3D' DVD and Blu-ray extras, says it includes 57 minutes of deleted scenes.
04/05/2012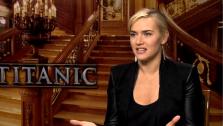 Kate Winslet praised "Titanic" director James Cameron and said she wasn't surprised by the decision to add a dimension to the blockbuster film.
"My first reaction when Jim called me and told me 'We're going to bring it out in 3D' was 'How wonderful' because a whole 'nother generation who perhaps haven't seen it and certainly haven't seen it on the big screen will have the opportunity and that's great. It's a wonderful film," Winslet said in an interview provided by the studio. "Am I surprised it's coming out in 3D? No, I'm not actually because Jim Cameron - there's no one like him - he's the most capable human being actually that I've ever known and when he puts his mind to something, he does it."
04/05/2012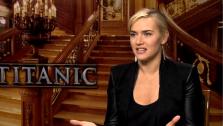 Kate Winslet talks about 'Titanic 3D' director James Cameron and the film's 'mind-blowing' technology.
03/30/2012
Leonardo DiCaprio might be proud of "Titanic 3D," but director James Cameron said the actor was more than embarrassed to watch himself on the big screen.
"I didn't show him the whole film but I showed him 18 minutes of it a few months ago." Cameron told WENN at the film's premiere. "It was a good reunion for us but great to watch his reaction. He couldn't believe it. He said to me, 'I'm such a young punk. Look at me.' He was practically crawling under the seat. It was a good moment."
03/26/2012
James Cameron has safely returned from his journey to the Earth's deepest point.
The "Titanic" and "Avatar" director traveled to the bottom of the sea on Sunday to explore the south Pacific's Mariana Trench. He used a specially designed submarine called "Deepsea Challenger" to dive nearly seven miles as part of a National Geographic Society project.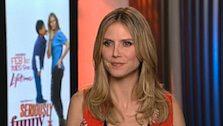 This week's show was filmed at the spectacular set of CBS's hit dancing phenomenon Live To Dance. In this episode of On The Red Carpet the awards season kicks it into high gear with the countdown to Oscar Sunday, /*Heidi Klum*/ kicks it with some kiddie co-stars!, and /*David Boreanaz*/ takes us backstage on the set of Bones.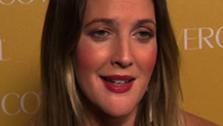 This week's show was filmed at the famous Grauman's Egyptian Theatre in Hollywood. In this episode On The Red Carpet catches up with /*James Cameron*/ about his new underwater adventure Sanctum, Robert Duvall sets his legacy in stone, /*Oprah Winfrey*/ goes out on her OWN, and we're backstage at Miss America 2011.
Sign up Stay Informed
Entertainment News