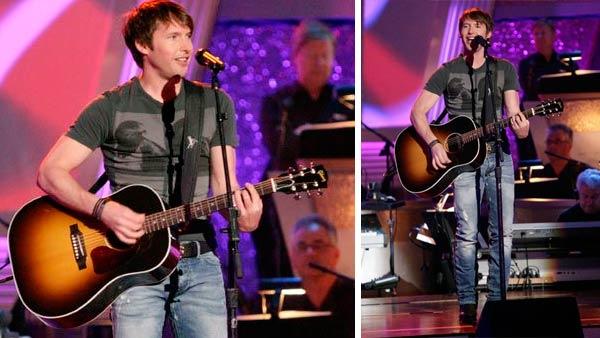 James Blunt quitting music? Not exactly
10/23/2012 by Corinne Heller
James Blunt, a pop rock singer best known for the 2005 ballad "You're Beautiful," is taking some time off from his music career but is not quitting it entirely, despite a recent report.
The UK newspaper The Mail on Sunday posted a story on October 20 under the headline "To be Blunt it's time for me to retire, says James," in which it quoted the 38-year-old as saying "I just want to take some time out for myself. I haven't got any plans to do more songwriting. I have been chilling out since I finished my world tour and I've spent a lot of time in Ibiza, where I have a villa."
Blunt, who had talked to one of the outlet's reporters at a relaunch of the nightclub Barbarella in the London neighborhood of Fulham, later posted a link to the article on his official Twitter and Facebook pages, along with a sarcastic message that read: "The Mail on Sunday has reported that James Blunt has split up due to musical differences. Neither could be reached for comment due to recording commitments. - at Conway Recording Studios."
Conway Recording Studios are located in the Hollywood section of Los Angeles.
Blunt also shared with his social network fans a link to a BBC America opinion story that said that it appears that the singer is not actually quitting music for good.
Blunt has sold more than 18 million albums worldwide, including 4 million in the United States. "You're Beautiful," his only No. 1 hit in the country, sold 2 million copies in the U.S. His third and most recent studio album, "Some Kind of Trouble," was ranked No. 11 on the Billboard 200 Albums chart.
Blunt wrapped up a world tour in February. At the time, he said on his website: "On a musical level, I've got three albums that I love, each with their own personality. I'm going to go away and do some other stuff now. I always have a guitar with me. Maybe I'll write about it. Maybe I won't. Either way, I'll check in occasionally."
(Pictured above: James Blunt performs on the ABC show 'Dancing With The Stars' on May 3, 2011. He sang his single 'I'll Be Your Man.')
(Copyright ©2013 OnTheRedCarpet.com. All Rights Reserved.)
Sign up Stay Informed
Entertainment News