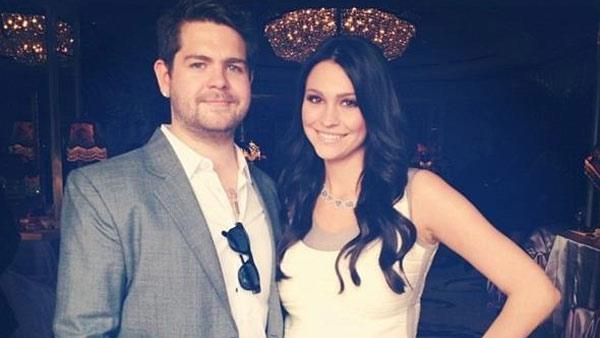 Jack Osbourne to become a dad - fiancee Lisa Stelly is expecting their first child
10/12/2011 by Corinne Heller
Jack Osbourne, the son of Ozzy Osbourne, and fiancee Lisa Stelly are expecting their first child.
The younger Osbourne revealed the news on the CNN show "Piers Morgan Tonight" on Tuesday, October 11, about two weeks after Stelly announced on her Twitter page that the two were engaged.
"I'm about to be a father," Jack Osbourne said on the program, as he sat beside Ozzy and his mother, Sharon Osbourne. "I'm excited. I'm a little nervous, but I'm excited. It's going to be fun. I'm not going to do a reality show though."
"I'm in shock," Ozzy Osbourne said. "I think it's fabulous."
Jack Osbourne, 25, his sister Kelly and parents Ozzy and Sharon starred in the MTV reality series "The Osbournes," which ran between 2002 and 2005 and depicted the family's wacky home life, as well as frequent squabbles between the Osbourne siblings.
Ozzy and Sharon Osbourne are also parents to a 28-year-old daughter, Aimee, who did not appear on the show.
Jack Osbourne's baby will be the first grandchild for Sharon Osbourne. Her heavy metal rocker husband and his first wife, Thelma Riley, have a daughter and son together and they have two children each.
"I'm happy because it's what Jack wants and I've always wanted to be a grandma," Sharon Osbourne said on "Piers Morgan Tonight."
Sharon Osbourne said on her CBS daytime talk show "The Talk" last week that her son told her about his engagement as she was recuperating from a series of "upstairs-downstairs" cosmetic procedures, including the removal of her breast implants.
"Then the next day I woke up and I forgot even that we have the conversation," she said. "And then he called me on the phone and said, 'Well Mum, Lisa and I are going to look at houses. And I'm like, 'Why?' I'd forgotten the whole thing. He understood. It wasn't me, it was those pills!"
"He's led such a full life already," Osbourne said about her son. "He said, 'I've been to every country in this entire world. I've had many women. I've done what I want to do and I want my own family.'"
Osbourne also said she adores her future daughter-in-law, calling her a "gorgeous, southern girl." Stelly is a model and aspiring actress who appeared in Green Day's "21 Guns" music video.
"Girls night in w/ @lisamarstelly my future sister in law & mother of my niece/nephew," Kelly Osbourne, 26, Tweeted on Tuesday. "We are so happy the news is out so i can talk about it. im the happiest girl in the world im going to be an auntie! @lisamarstelly welcome 2 the family i <3 u"
Stelly had Tweeted earlier that Kelly Osbourne "will be the best sister-in-law ever! <3"
(Copyright ©2014 OnTheRedCarpet.com. All Rights Reserved.)
Sign up Stay Informed
Entertainment News