Entertainment News: hugh grant
02/16/2013
Hugh Grant took to his official Twitter account on Saturday, February 16, to announce that he is a father again. The actor said he recently welcomed his second child, a son.
"In answer to some journos. Am thrilled my daughter now has a brother," he wrote on his verified account. "Adore them both to an uncool degree. They have a fab mum."
More hugh grant
10/19/2012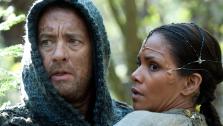 Tom Hanks and Halle Berry play 6 characters each from different times in the new sci-fi and adventure movie "Cloud Atlas." Among Berry's roles - a Korean man and a white woman.
Check out photos of the two as well as of co-stars such as Hugh Grant and Jim Broadbent from the Warner Bros. Pictures film, which was directed by Tom Tykwer and Andy and Lana Wachowski of 'The Matrix' trilogy. The movie is set for release on Oct. 26, 2012.
04/27/2012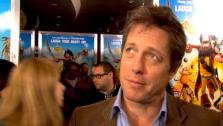 Hugh Grant was happy to make his first animated film, "The Pirates! Band of Misfits," which he said he hopes his baby daughter will see one day.
"This is pretty much the first time that I've done a cartoon and I couldn't say no," Grant told reporters at the film's New York premiere. "Aardman [Animations] have made nothing but films I've adored - 'Wallace & Gromit' and 'Chicken Run.' The script was peculiarly sort of 'Monty Python'-ish and hilarious to me... Like all Aardman films, they appeal to children and parents simultaneously. There's a lot of falling over, slapstick stuff for the kids and there's actually quite dry, sophisticated stuff for the adults."
04/26/2012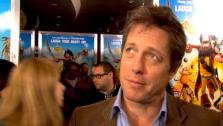 Hugh Grant talks about voicing the Pirate Captain in 'The Pirates! Band of Misfits' at the film's New York premiere.
03/20/2012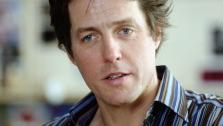 Hugh Grant has generally avoided interviews following a very public battle with British media over phone-hacking, but the actor recently got candid about his new daughter, Tabitha.
The 51-year-old actor welcomed his daughter in September with a 32-year-old Chinese woman named Tinglan Hong, with whom the actor had a "fleeting affair," the actor's spokesperson told OnTheRedCarpet.com in a statement.
02/16/2012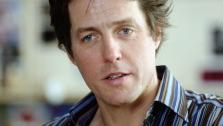 Hugh Grant says he wasn't sure if he could pull off portraying six different villains in his upcoming film, "Cloud Atlas."
"I have six cameo parts in this strange, ambitious film," Grant told Empire magazine. "I do a lot of killing and raping. I wear an awful lot of prosthetic make up, too. You probably won't know that I am in the film! But it was a laugh. I thought before I read it that I'd turn it down, which I normally do, but I was interested in meeting the Wachowskis because I have always admired them enormously. And they are so charming and fascinating."
07/20/2011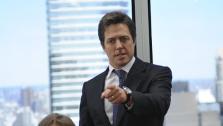 British actor Hugh Grant and his ex-girlfriend Jemima Khan will be allowed to view police evidence that could show whether their phone messages were intercepted by a private investigator working for News of the World and other newspapers, a judge ruled on Wednesday, July 20.
News of the World, a UK tabloid owned by Rupert Murdoch's News Corp., shut down earlier this month after 168 years amid allegations that its journalists hacked into cellphones of scores of people - namely, celebrities and a teenage murder victim, and enlisted the help of UK police.
07/07/2011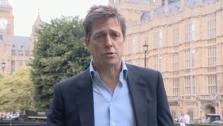 Hugh Grant says police have asked him to testify at an inquiry regarding a scandal involving the UK tabloid News of the World, which has come under fire for allegedly hacking into cellphones of celebrities and a teenage schoolgirl who was murdered.
Earlier this year, the 50-year-old British star of films such as "Four Weddings and a Funeral," whose 1995 arrest for soliciting a prostitute dominated tabloid headlines, wrote in an article published in The New Statesman magazine in April that he had secretly taped a conversation with a former New of the World editor, Paul McMullan.
05/12/2011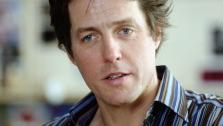 Charlie Sheen recently wrapped up his "Violent Torpedo of Truth" comedy tour, but the fate of his show "Two and a Half Men" has been unclear since the actor got fired in March and while the media tossed around Rob Lowe and John Stamos as rumored replacements, there was a surprise competitor in the ranks.
It's recently come out that Hugh Grant was "in talks" to join the hit CBS show and was a serious contender to replace Sheen's role as the womanizing Charlie Harper. Grant reportedly had two creative meetings and the deal was progressing until he unexpectedly backed out at the last minute.
Sign up Stay Informed
Entertainment News