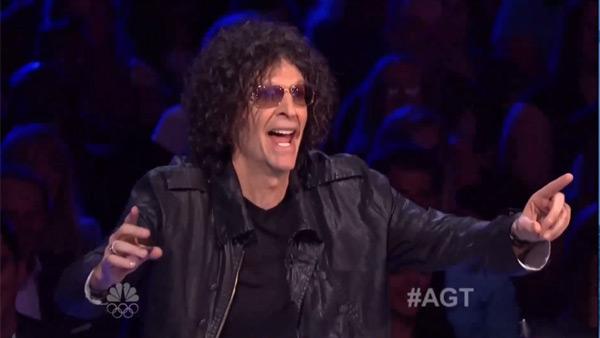 Howard Stern returning to 'America's Got Talent': 'My work is unfinished' (Poll)
12/03/2012 by Corinne Heller
Shock jock Howard Stern says he is "absolutely thrilled" to reprise his role as a judge on the NBC competition series "America's Got Talent" for what will mark his second season and the show's eighth, adding that he plans to be "even more straightforward and direct" with contestants.
The 58-year-old made the announcement on his adult-oriented SIRIUS-XM satellite radio show on Monday, December 3. NBC also put out a statement confirming the news. The eighth season is expected to debut in the summer of 2013.
"I am going back! Yes, I am going back. I have signed up for season two of 'America's Got Talent,'" Stern said. "Here are my reasons for going back. Again, I believe that this is the only show that has this kind of clout for what I would say is non-singers ... I just find it so refreshing that we have people who can get this type of exposure will have a shot at stardom."
"But I really feel my work is unfinished there. I really do think I can find a superstar act," he said, adding: "I'm ready to come back. I'm ready to judge and I'm really gonna be even more straightforward and more direct than I was in the first season. I've made that vow. I really felt I could not walk away. The experience was so positive ... I just want to say that I am absolutely thrilled to be returning."
"America's Got Talent" features singers, musicians, stand-up comedians, acrobats and other stunt performers. The previous seventh season saw Stern as the more critical judge, even causing a little boy to cry. He also showcased his playful side -- sometimes flirting with female contestants and cracking jokes with sexual innuendos -- and brought along his wife and surly father, a recurring phone guest on his radio show.
An act called Olate Dogs, featuring a man, his son and their dogs, was deemed the winner on the September finale, earning a headlining show in Las Vegas and $1 million. More than 10.5 million people tuned into the episode, which earned a 2.4 rating among adults between ages 18 and 49. It was the lowest-rated finale since the show's debut in 2006.
The finale ranked in second place in its time slot, below FOX's singing competition series "The X Factor." Both shows are co-produced by Simon Cowell's company, SyCo.
"I'm delighted Howard is returning to the 'America's Got Talent' judging panel," Cowell, who serves as a judge and mentor on the FOX show and who rose to fame as the most acerbic judge on "American Idol," said in a statement provided by NBC.</p?
"I really believe he and 'AGT' will find the next great talent capable of global success," Cowell added. "This show was made to uncover incredible talent of all types and ages, and has launched some massively successful careers all over the world. So America's relying on you Howard - no pressure!"
In addition to Stern, longtime cast member Howie Mandel will also return to the judges' panel as well, OTRC.com has learned. However, the show's third judge, Sharon Osbourne, announced earlier this year that she will not. Her replacement has not been announced.
"Sharon I know is out. I will miss her and that, by the way weighed in," Stern said on his show on Monday. "I really liked working with Sharon. I thought she was terrific."
The New York Post reported in October that Cowell wants Carmen Electra to join the show. The two have not commented and "America's Got Talent" producers have refused to confirm or deny casting rumors. Electra, a former "Baywatch" actress, is currently promoting a relaunched music career with a new single.
(Copyright ©2014 OnTheRedCarpet.com. All Rights Reserved.)
Sign up Stay Informed
Entertainment News