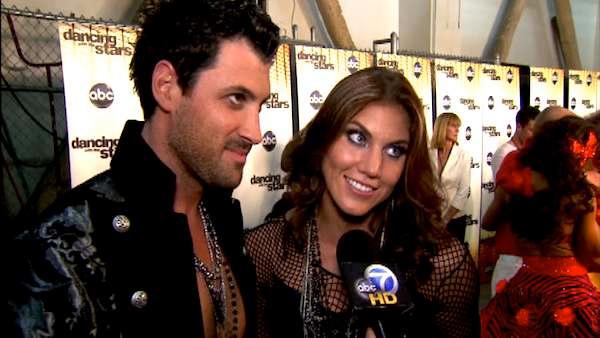 Hope Solo: Maksim Chmerkovskiy 'slapped me' during 'Dancing With The Stars' rehearsal
08/17/2012 by OnTheRedCarpet.com Staff
Pro-soccer player Hope Solo makes strong accusations against "Dancing With The Stars" cast member Maksim Chmerkovskiy in her new memoir, saying that he was physically aggressive and verbally abusive towards her during their rehearsals last year. BBC World Productions, which produces the ballroom competition series, and ABC, which airs the show, declined to comment about the matter when reached by OnTheRedCarpet.com. (NOTE: Both ABC, OnTheRedCarpet.com and parent firm
KABC Television
are owned by the Walt Disney Company.) Solo and Chmerkovskiy, a 32-year-old pro-dancer and one of the show's cast members, were partners during season 13 in the fall of 2011. He has not commented about her allegations specifically but did post on Thursday a cryptic
Tweet
that said: "Always hated hypocrites and liars...but when someone is both AND an opportunist, I just feel bad for them. Can't win at someone's expense..." "He manhandled me in rehearsals from the start, pushing me, whacking my stomach, bending my arms roughly," Solo, 31, says about Chmerkovskiy in her book, "Solo: A Memoir of Hope," which was released on August 14. "I thought that was just how it went - how dancers worked with each other. I was tough; I could take it." "But it kept getting worse. One day, Maks was trying to put me in a certain position and hit my stomach so hard with his open palm that I had a red handprint there for the rest of the day," she added. Solo claims that during another rehearsal, Chmerkovskiy "wanted my head in a specific position" and "to achieve that, he slapped me across the face. Hard. My huge dangling earring whipped into my face. I knew the camera was rolling, so I checked my impulse to fight back." "I walked out of the room, away from the camera, and took off my mike," she wrote. "Maks followed me and took his mike off. 'Don't you ever (expletive) put your hand on me again,' I said. He was extremely apologetic. I didn't care." Solo says Chmerkovskiy would also swear and insult her during their rehearsals and told her she "looked like a dude." She claims producers offered her the chance to switch dance partners but that she ultimately declined, adding: "I didn't want to end Maks' career." "And I knew that if I asked for a change, it would be spun in the tabloids and on the show that I was a prima donna," she wrote. "It was another lose-lose situation." Solo also says in her book that her former soccer coach, Greg Ryan, pushed her during a confrontation at the 2007 World Cup. Ryan told
ESPN
: "This allegation is completely false." Solo, who served as the goalie for the gold medal-winning U.S. women's soccer team at the recent 2012 Summer Olympics in London, and Chmerkovskiy came in fourth place on the show.
Solo appeared very emotional backstage after the pair was voted off and was seen wiping away tears
. She avoided the slew of reporters who gathered after the taping to talk to the costestants, opting to talk only with "Dancing With The Stars" pro-dancer and "Extra" contributor Tony Dovolani. He has also not commented about her accusations. "He had become my friend, and he said some beautiful things to me when I came over for an interview: that I was his role model and he wanted his daughters to be like me," Solo said. "It hit me right then how far I had come - I had just wanted a challenge and to give women's soccer some exposure, yet I had made it to the final four on 'Dancing With The Stars.'" Solo had said on her Twitter page following her elimination:
"I'm especially grateful to my loyal fans and of course to maks (sic).
... @maksimC and I had a blast together and I'm honored to say that our friendship will go well beyond these past 9 weeks! Love for you all! :)"
Solo and Chmerkovskiy gave a joint interview to OnTheRedCarpet.com
at the finale of season 13 "Dancing With The Stars" in November 2011, weeks after they had been voted off. "This experience hasn't been negative for me," she said at the time. "It's been awesome and I've met some incredible people." Check out all of
Hope Solo's interviews with OnTheRedCarpet.com and KABC reporter George Pennacchio after her "Dancing With The Stars" performances
as well as photos of her
dancing with Maksim Chmerkovskiy
on the show.
(Copyright ©2014 OnTheRedCarpet.com. All Rights Reserved.)
Sign up Stay Informed
Entertainment News