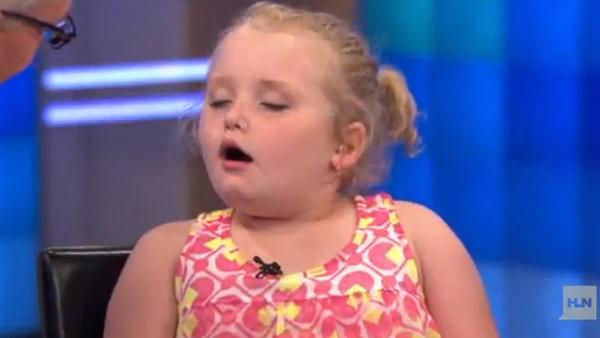 'Honey Boo Boo' star, 7, pretends to sleep during 'Dr. Drew' (Video)
10/23/2012 by Corinne Heller
Maybe he should have offered her some Sketti first.
Dr. Drew Pinsky appeared to have a difficult time capturing the attention of Alana Thompson, the 7-year-old unconventional beauty pageant contestant and star of TLC's hit reality show "Here Comes Honey Boo Boo," during an interview on his HLN current affairs show.
At one point during their exchange, Alana pretends to fall asleep in her chair and snores loudly.
"She's stretchin,'" her mother, Mama June said.
After a little coaxing from her mother, Alana turns back to Pinsky and swats him playfully.
"It's alright, she's not hitting me," he says, as the child mumbles.
Critics of "Here Comes Honey Boo Boo," which showcases the fun-filled but often vulgar hijinks of Thompson, her parents and her sisters in their rural home in Georgia, say TLC is exploiting the child. Pinsky, who also hosts VH1's "Celebrity Rehab" and is often asked by the media to psychoanalyze stars, then asks Alana if she likes being on TV.
"No!" she is seen shouting. "Fans come up to me and I hate it."
"Yeah, right," her mother says.
Alana also appeared somewhat distracted during an interview on Anderson Cooper's syndicated talk show "Anderson" last month, interrupting the host at one point to make a silly gesture and shout out her show's most famous slogan - "You'd better Redneckonize!"
In addition to fans, thanks to the success of - and controversy over - "Here Comes Honey Boo Boo," Alana's family is nowadays also often followed by members of the paparazzi. In September, the website Gawker featured a "day in the life"-type expose about the cast of "Here Comes Honey Boo Boo," in which its reporter noticed that "when anyone asked for a picture with Alana that day - and dozens of people did - June left the decision up to her daughter, and Alana usually declined."
While many members of the media have referred to her by this nickname, as well as by "Honey Boo Boo Child," her family calls her Alana. Gawker reported that "no one ever actually calls" the girl "Honey Boo Boo." Alana told Pinsky that her principal at her public elementary school has now begun to call her by that name and that nowadays, her friends "treat me different."
Mama June told him that people also refer to her as "HBBC" and that it has not affected her social life, adding: "If anything, now when she walks through the halls, people are amazed that she's still at public school."
Pinsky's interview with Thompson and her mother aired on HLN on Tuesday, October 23 at 9 p.m. ET.
The two reality stars have been on a press tour in Los Angeles recent weeks ahead of the show's three upcoming "HOLLAday" specials. The episodes were announced last month after the first nine episodes season of "Here Comes Honey Boo Boo" received high ratings.
The two recently appeared on ABC's late night talk show "Jimmy Kimmel Live!," in which Alana endorsed President Barack Obama's re-election, as well as the online "Screen Junkies Show" to respond to a viral YouTube video starring >Christopher Walken, Sam Rockwell and Colin Farrell, who were asked during a press junket interview to recite lines from "Here Comes Honey Boo Boo." In their response video, Alana and her mother read lines from several of Walken's films.
(Copyright ©2014 OnTheRedCarpet.com. All Rights Reserved.)
Sign up Stay Informed
Entertainment News